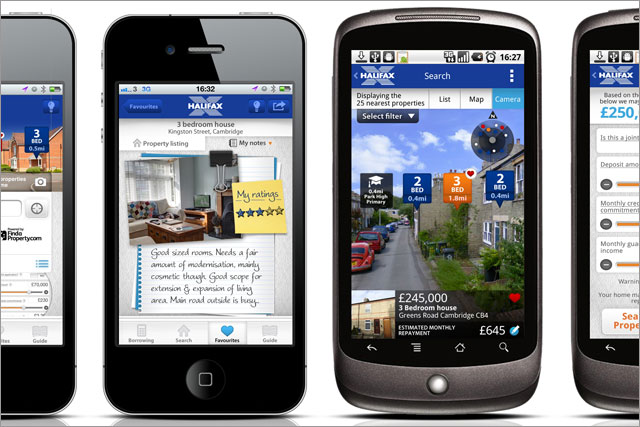 Augmented reality technology integrated into the app allows homebuyers to view properties available to buy in the surrounding area. It also offers additional information and advice about taking out a mortgage.
Mobile agency Grapple created the Halifax home finder app, which is available to download from today (8 May) on iPhone and Android phones.
Ashley Machin, Halifax digital banking director, said: "I'm certainly not thinking about it as to whether it's a transactional tool or a brand enhancement tool. [It's] an opportunity to make life an awful lot easier for people who are in the process of looking for or buying a house.
"I'm really hopeful that it will be used by people all over the UK regardless of where they bank. It is entirely focused around this notion that we should get much better at providing services to meet customers needs on an end to end basis."
Halifax's home finder app will also have a contact number throughout to give access to mortgage advisers at Halifax.
The launch of the app comes as Halifax attempts to innovate in the digital space following research from the Boston Consulting Group that suggested the UK is one of the most advanced ecommerce economies.
Machin said: "We are very keen that Halifax continues on its path of being the major challenger bank in the UK.
"We want Halifax to be that bit different and quicker than the rest of the market and that's why Halifax is first out there with the home finder app."
The app's mortgage calculator allows prospective buyers to work out how much they would need to borrow and estimates monthly mortgage repayments, while Land Registry data informs users of previous sold prices in the area.
Local area guides on the app provides details including distance from schools and transport links in the local vicinity, while a homebuyer guide will provide tips to support people through the home buying process.
Additional functionality allows users to book viewings, rate properties, add comments and images during viewings and share details with friends and family through an emailed PDF.
Follow Matthew Chapman at @mattchapmanUK