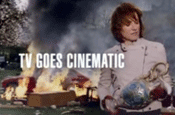 The high-octane film opens with what seems to be a normal episode of the Sunday-night TV show.
However, the valuation of a vase at £2 million leads to the owner's son feinting, triggering an action-packed sequence of events.
The vase shoots across the room, and visitors to the show destroy other antiques as they try to catch it, before the vase flies out of the window.
A car then crashes through a wall and smashes into tables of other antique items before bursting into flames.
The BBC news presenter Fiona Bruce jumps clear as the car explodes, coolly catching the vase in a daring leap.
The film ends with the strapline: "TV goes cinematic."
It has been produced in 40-second and 65-second versions for TV, while a 95-second version will show on the BBC HD channel and in UK cinemas.

What do you think of Fallon's imagining of Antiques Roadshow? Comment below:
CreditsProject name:
BBC HD launch
Creative agency:
Fallon
Clients:
Amanda McGregor, Head of Marketing BBC HD and Catriona McGrath, Head of Marketing, Future Media and Technology
Brief:
Introduce the BBC HD channel
Executive Creative Director:
Richard Flintham
Art Director:
Sam Walker, Sef Tedder
Copy Writer:
Joe De Souza, Harv Bains
Group Account Director:
Jonathan Trimble
Account Director:
David Mannall
Agency Planner:
Charlotte Stone
Agency Producer:
James Bretton
Production company:
Red Bee/ Sonny London
Director:
Jeff Labbe @ Sonny London
Producer:
Joanna Yeldham
Director of Photography:
Alwin Kuchler
Editor:
Scot Crane @ The Quarry
Post-production:
MPC
Audio post-production:
Grand Central
Media:
BBC