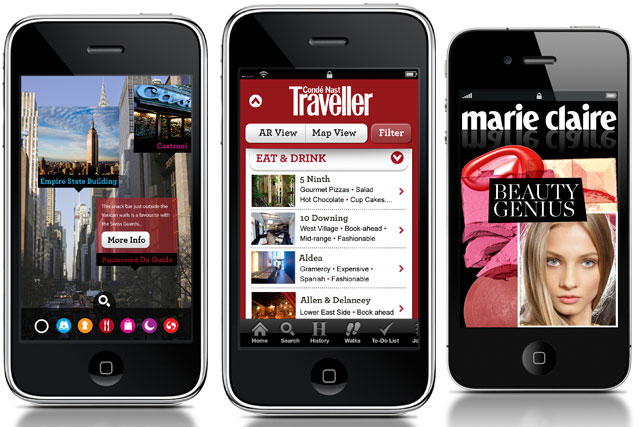 The second Innovations in Magazines 2011 report by Fipp highlights how the past 12 months has been dominated by click-to-buy fashion, mobile marketing and fantastical covers – including ones that smell of food or spring to life through video.
News that Condé Nast UK is ramping up its digital investment with more iPhone apps for Glamour and GQ, and further iPad launches to sit alongside its Wired and Vogue apps, suggests publishers are searching for enhanced consumer engagement, if not more dollar signs, in innovation.
Next month sees the launch of a GQ style iPhone app in association with online retailer Mr Porter. It encourages readers to buy products via links to the Mr Porter site. A soon-to-launch Glamour beauty app will also offer a similar service.
In August last year Hearst's Marie Claire US launched a "snap to buy" feature to accompany the September issue – traditionally the fattest in terms of fashion advertising.
Readers were told to "use your phone to buy your favourite items right off the page", by taking a photo of the item they required by clicking the icon next to it. The picture could then be emailed or sent by text to the publisher, which would reply within 60-seconds, using image-recognition technology, with a link to buy the item.
Claudine Collins, joint head of investment at MediaCom, said: "It's fantastic that magazines are doing this. They've got to look at ecommerce and brand extensions to make money.
"Publishers have to think outside the box and get closer to their clients and that's a way of doing it".
Hachette Filipacchi, publisher of women's glossies Elle, Red and Psychologies, has also been conducting experiments with ecommerce.
Since the Elle website was launched in 2007, readers have been able to click and buy items, including clothes from retailers such as French Connection and Lipsy, or book a hotel room, through the site.
However Anna Jones, digital director at Hachette, admits the publisher is still exploring tablet and smartphone innovation. She said: "As we haven't put all our magazines on tablets yet, we haven't looked at ecommerce in that format.
"Clearly there's potential as fashion clients are very keen to exploit ecommerce, but it's something our magazines haven't really cracked yet".
Helen Russell, digital and online editor for Marie Claire UK, said: "I'd say that our users are turning to us more and more for their shopping fix and affiliate revenues are up year on year.
"More than 90% of all products featured on marieclaire.co.uk currently incorporate click-to-buy".
She said "click to buy will be key" for the second phase of Marie Claire's Beauty Genius app, due to launch later this year.
Sensational covers
Publishers are also testing innovative, sensory covers. South African magazine HIP2B2 printed a magazine cover last November that was intended to smell like chocolate cake, to teach its readers about the wonders of science.
Last June, Condé Nast's Wired magazine created a scratch-off cover to test its readers' ability to resist their curiosity, as part of 'The Great Trust Experiment'.
It was designed to tie-in with a cover story about financial networks that rely on people trusting each other.
Andrew Diprose, art director of Wired UK, said: "We benefit from a clever and very literate readership with Wired, and this cover caught their attention".


American fashion magazine V decided to give its annual August body issue a twist. It created four different "scratch and see" covers that featured models wearing only a giant V to hide their modesty.
Readers who wanted to see the version that featured the fully naked models had to purchase it for an additional cost online, effectively encouraging consumers to pay for the same issue twice.
The marketing ploy is currently being replicated by Dennis Publishing's Bizarre magazine, which features a model on the cover wearing latex underwear. The reader is encouraged to scratch the underwear to reveal the scent of rubber.
Collins said: "Anything that is innovative is good. If you can embrace the technology and produce hologram front covers or 3D covers to get the consumer's attention at the newsstand then that's great".

Mobile marketing

Publishers are increasingly turning to mobile marketing to draw in readers. Fipp singles out Hearst and The Economist as frontrunners in mobile marketing in terms of driving subscriptions and single-copy sales.
Economist readers are sent a text that asks if they would like the new issue to be delivered, while in the US, Hearst Digital Media has partnered with ShopText, a mobile commerce and promotion company, to deliver messages to consumers. Respondents can send in their requirements without having to fill out subscription forms.
Vladimir Damianov, promotions director at Hearst, described the tactic as "a simple, creative change, very easy to do" and "a natural fit" for Hearst's teen audience, which is very active on mobile.
Fipp's report also celebrates other innovative strategies of the past 12 months, including augmented reality, enriched video, and location based services that harness apps' geolocation technology.
Condé Nast Traveller launched four city apps for Rome, Barcelona, New York and Paris, last July, providing the consumer with GPS and audio tours to the editors' favourite venues, at a premium cost of £5.99 for the app.
Emanuela Pignataro, country manager for Condé Nast Digital Britain, said it was a "natural extension" and strengthened "the brand values of the magazine".
Andy Taylor, head of magazines at Carat, says innovation is necessary as "magazines need to become a community not just a printed product.
"When I buy Grazia, I don't just want Grazia magazine, I want Grazia TV, I want Grazia events, I want smelling ink, I want everything. It's about buying the brand community.
"Innovation is good for advertisers because it provides multi-touch points".