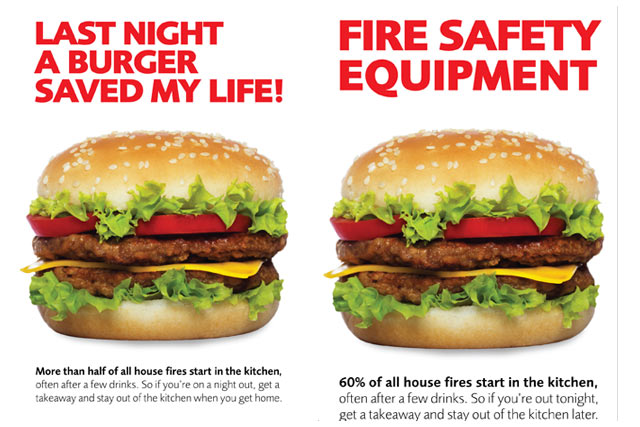 Outdoor ads targeting Londoners under the age of 35 will be placed across a range of London Underground stations including Bond Street, Tottenham Court Road and Holborn, catching people when they're on a night out.
Print and online ads will also be placed in Time Out, Metro and Facebook, featuring a picture of a cheeseburger with the strapline, 'Last Night a Burger Saved My Life!'
The ads have been created in-house by Chris Davies who was also behind winning work for the CBS Outdoor Big Bus Challenge, held in association with Campaign.
New analysis by the LFB estimates that the equivalent of around 33 million pints of beer or 75 million shots of vodka will be drunk by Londoners this December.
Research also shows a quarter of accidental house fires in the capital are caused by 18 to 35 year olds when attempting to cook at home when drunk.
The ads will run for three weeks over the Christmas and New Year period.
People can upload their pictures of their takeaways to London Fire Brigade's Facebook page. The tastiest takeaway picture will receive a £25 voucher from online takeaway booking service Just Eat.
London Fire Brigade's marketing manager, Lara King, said: "We want to get the message across that people should get a takeaway on their way home from a night out during the Christmas period and not try and cook when they're drunk, as it could lead to a fire and be fatal."