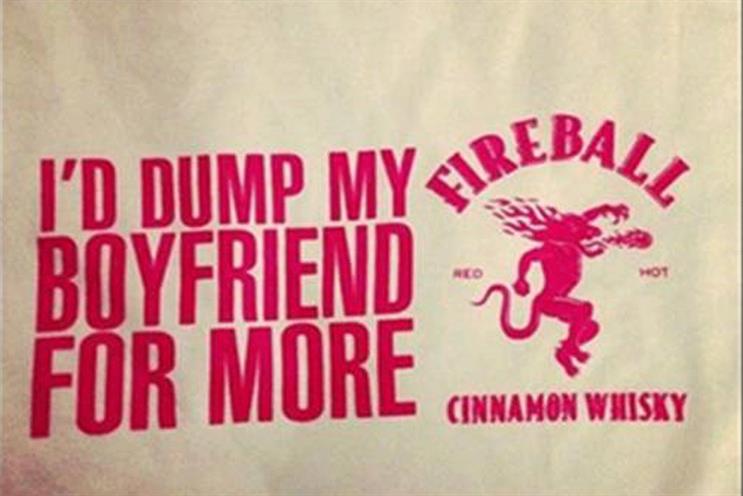 The banned posts include a post of an image of a T-shirt with the slogan "I'd dump my boyfriend for more Fireball Cinnamon Whisky" and another post stating, "The only thing more important to me than Fireball is----?", encouraging people to fill in the blank.
The complaints also included links to three different "a day in the life of a university student" blogs.
One featured a drinking game where players could collect stamps by drinking shots, encouraging students to get their alcohol tolerance up.
Another suggested that if people were not stumbling over by the end of a night, then they were "not drunk enough" and suggested it was "time for the Fireball to come out!"
The final blog featured text that said: "All good students know that there's only one way to get as drunk as we want without being broke the next day, and the answer of course, pre drinks."
A complaint from the Youth Alcohol Concern challenged whether the posts and blogs were likely to exploit the young, immature and vulnerable, encourage excessive drinking and whether they were irresponsible for the implying that alcohol was indispensible.
In its assessment of the ads the Advertising Standards Authority upheld the complaints that the blog posts encouraged excessive drinking and were likely to exploit the young.
Hi Spirits Ltd, which owns the Fireball band, had already removed the blogs before the review, but asserted that the other two posts "were not irresponsible" and "were written in jest".
However, the ASA noted that the CAP Code required marketing communications to be socially responsible and asserted that the image of the T-shirt suggested alcohol took priority over personal relationships.
It also said the post asking users to say what the "only" things more important than Fireball "implied that only a single thing was more important than Fireball Whisky" and added that the ad suggested Fireball was "indispensable in life".
This is not the first time Fireball Whisky has had difficulties over its Facebook posts. In May, the ASA also banned a series of posts for featuring pictures of models that appeared to be under 25, and promoting excessive drinking.