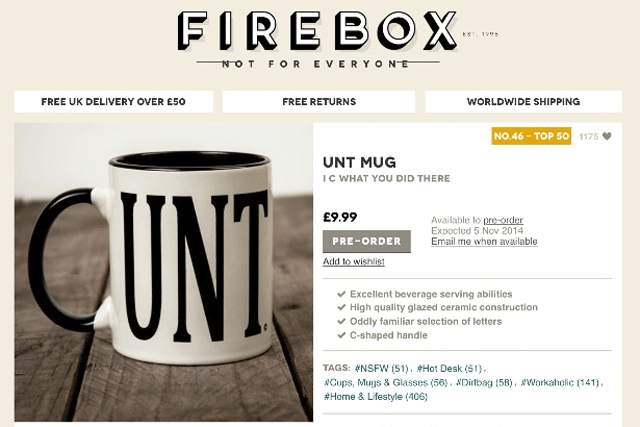 The ad on the homepage of Firebox's website featured a product called the "UNT Mug", which is a mug with the letters "UNT" printed in bold black lettering on the side. When looked at from a certain angle, the blackened C-shape of the handle precedes the letters, effectively spelling the word "cunt".
The ad received just a single complaint, with the person arguing that the ad would cause serious offence.
Firebox's defence to the ASA was that the image was referring to a product being sold on its site and that the C-shaped handle was the same as handles for regular mugs in the UK.
The company said that the "UNT" mug was a bestselling product and therefore was featured prominently on the ecommerce site. But it explained that it had not marketed the product in email communications or advertised it more widely than on its site.
Firebox argued that the product was fun and cheeky, and that if people were offended, they could choose not to visit the site again. It said that 325,000 people had viewed the product page and 19,000 people had shared the product via social media.
The ASA considered that the product website listing was an ad and therefore fell under the remit of the CAP Code. It did acknowledge that the "full expletive had not been spelt out and, instead, used the handle of the mug to create the impression of the 'C'".
But it thought that consumers would understand the intended meaning of the "UNT" placed next to the C-shaped handle.
The ASA said: "While, in the context of an online shop, it was likely that the ad would be mostly viewed by adults rather than by children, we considered that a clear allusion to the word 'cunt' was likely to offend and, therefore, marketing communications should only market products that contain expletives or words, or allusions to expletives or words that were likely to cause serious or widespread offence if they had given a clear and prominent warning on their website to potential viewers."
The ASA concluded that the ad was likely to cause serious or widespread offence and told Firebox not to run the ad again and to ensure that all its future marketing communications of products that contained expletives or "allusions to expletives or words that were likely to cause offence" should include prominent warnings to potential viewers.
Read next