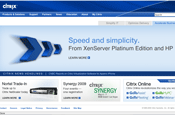 The IT company, which produces a range of conferencing and systems support products, has approach media networks about pitching for the account.
It is thought that the company has not retained an international media network in the past.
Agencies are understood to have responded to an initial brief and Citrix is thought to be in the process of drawing up a shortlist for a pitch.
US-based Citrix has run global activity, created by JWT Technology, designed to build its reputation as a software provider. UK specific advertising activity has included a live ad campaign on the London radio station LBC to promote Citrix's Go To My PC software package. This involved live presenter-read ads supported by a traditional ad campaign.
Last month Citrix announced that it is planning to cut around 10 per cent of its staff in response to falling profits.
Citrix saw fourth-quarter profits fall to $60 million from $63 million during the same period in 2007.