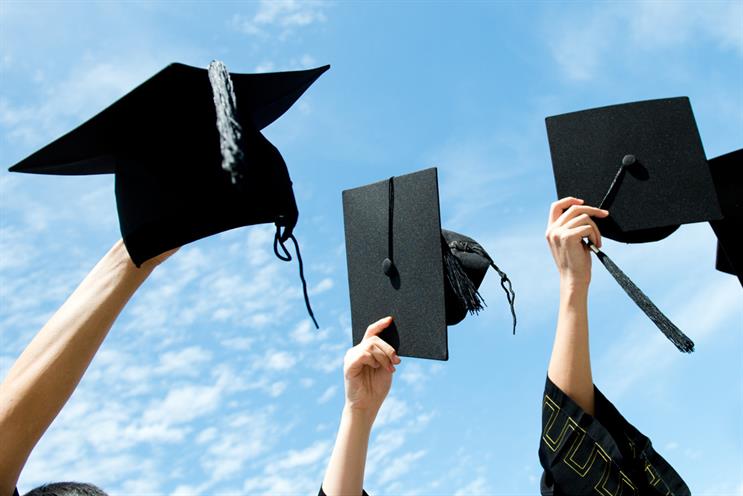 Stories about established agency heads climbing their way from the post room are ten a penny, but far fewer of today's up-and-comers can claim such humble beginnings. Technology – that great democratiser – must accept some blame in this instance. Computers have decimated support-staff roles and the few who remain are usually too precious to be allowed time explore other avenues within the agency.
But that's only part of the problem. Advertising is a popular career and sifting people by university makes it easier to sort through all the applications. Michael Ferdenzi, a graduate account handler, applied for some 30 jobs, went to assessment centres and tried to get on graduate schemes before getting hired by Rapp.
"I did hear about apprenticeship schemes, but most people I'd see searching for jobs were graduates," he said. "Talking to my friends, advertising was seen as a go-to industry if you don't know what to do. A lot of people who were unsure would look at either recruitment or advertising."
Just sorting the enthusiastic graduates from the indifferent ones can be tough. Taking time to find talent among school-leavers or people who skipped university can be a job too far.
But it can be worth it. Campaign interviews three adlanders who have found success despite having never worn a cap and gown.
Camilla Harrisson, chief executive, Anomaly
I was busy at school getting good grades until I did work experience at a PR company. I was 16 and went to work at the PR company my cousin worked at. Nobody did any work and I thought it was great. I was asked to cut out articles for clients and put them in scrapbooks. I did it because it was a lot like GCSE art. Everyone said I was really gifted. My boss took me out to lunch in his Aston Martin. When I finished school, I decided: sod uni, I'll do this. So I put an ad in PR Week. Something along the lines of: "Girl Friday down in London."
I took a job at a PR consultancy where the owner was down the pub most of the time, so I had to do all the work. He paid me £500 a month but the cheques bounced a couple of times, so I didn't really have any money either.
I left that job after a couple of months and took a typing course. I was working as a temp when I interviewed at WCRS. The agency's office was opposite my temp job and my boss saw me doing the interview, so when WCRS offered me the job of team secretary on BMW, I thought I'd better take it.
One day, Robin Wight said he'd heard I was quite good and asked if I'd like to work on new business. That sort of thing doesn't happen so much these days because agencies don't need so many secretaries.
You learn everything through osmosis if you do new business. I was sitting in a room with Robin Wight, Rooney Carruthers and Charles Vallance. I got really lucky.
Not going to university never held me back. The only thing that I ever encountered was shock and surprise on some people's faces later in my career when it would emerge that I hadn't gone to university. I suspect Tim and Moray [Duffy and MacLennan, from M&C Saatchi] were appalled when they heard I hadn't gone to Corpus Christi or something.
I'm quite proud of it because I think there's a lot of snobbery in the industry. We keep talking about being diverse but we've never had a less diverse way of recruiting people. People want the talent but they can't be arsed to deal with the overwhelming amount of people you have to sift through. It's choice paralysis.
I do a lot of mentoring and I tell people two things. One: do a typing course. It has probably saved about a year of my life over time. Two: just get in any way you can. The graduate recruitment process is incredibly competitive but, once you're in a job, if you're bright and help out, you can work your way up.
Paul Lawson, chief executive, Leo Burnett London
Basically, I left school and decided not to go to university. Initially, I was a motorcycle dispatch rider, hanging out in Hanover Square. But then I became a trainee manager at William Hill in Chelsea. We used to joke it was Maggie Thatcher's bookies; she had a house on the same street. I watched people come in and gamble away their livelihoods, which was a bit depressing and made me think I'd better go and get a decent job.
Someone told me about St Paul's job centre, where you could get all the good admin jobs, and I saw an ad for a media assistant at Allen Brady & Marsh for £6,000 per year. The ad said something like: "Wanted: hungry young street tiger." Grrr. The job centre explained what an ad agency was and I thought I'd enjoy it. I was taken to lunch by a client on my first week, got mullered on a bottle of wine then came back to the office and fell asleep. I thought: "This is great."
But I was always interested in moving on and moving up; I had a chip on my shoulder about my lack of education. I read every book about the industry and went on every course that I could go on.
In media in those days, people were already seen as dodgy, so there was no sense of: "What uni did you come from?" I only felt out of place once – when I was interviewed by the lovely Mark Lund once I had transferred into account management. All the DLKW guys were clever and urbane, and I felt like a boy in a "nearly new" shiny suit, which I was.
When I was at WCRS – the agency that made me – I decided to get an MBA in a last-gasp attempt to prove to myself that I wasn't stupid. Stephen Woodford kindly offered to fund it and I managed to get accepted into the London Business School without an undergraduate degree.
Nowadays, I look at the things we make grad recruits do and think there's no way I could get into the industry today. I just fell into it because there happened to be an agency job at the job centre that day.
There's also that whole "started in the post room" thing, but most people who did that did it because they wanted to break into the industry. I just lucked out.
Jonathan Burley, executive creative director, CHI & Partners
I never thought about advertising as a career. I think most working-class people get into advertising fortuitously. I left school to run my own contract gardening business but I broke my ankle and couldn't do that any more.
I didn't have any qualifications – I'd just got a D in O-level art – and my mum made me get a job at the Portsmouth tax office, putting numbers into a ticker-tape machine. I got screamed at for helping people out, so I told my boss to fuck off. Later on, I worked at Texas Homecare but I got fired from that too for not wanting to work on Boxing Day.
My mother was artistic and said I should go to art school, so I got a place on an interior design diploma, which I failed spectacularly. But the end-of-the-year project was to design a local business and make some ads. I did some awful press ads that I thought were excellent. I didn't want to work in advertising but I could write and draw a bit and I enjoyed it; I never thought it was going to be a career.
I did three placements before WCRS gave me a job. I was unemployed at the time and survived on housing benefit. My first awards show was the Campaign Press Awards. I got off my tits and went round minesweeping. I was on Trevor Beattie's table drinking his Champagne and smoking his cigars.
If you speak to people in my generation, most of them wouldn't have thought that there was a career in advertising. The difference between then and now, like with actors and musicians, was that back then people just fell into it. If I thought I had to get into £30,000 of debt to start a career in advertising, I never would have done it because advertising is a bit more of a punt as a career than law or medicine; it's just not worth it.
Advertising has become strangely homogenised now. I was looking at the Cream book recently – there are some really talented people in there but it doesn't feel like there are real characters coming through. I'm not saying that I miss the days of the creative superstars, mind. They're gone and that's probably a good thing.
Being working class doesn't add value per se. A purely working-class agency would be feral and the ads would just be bleak angry tales of family life. But it's always good to have a mix.