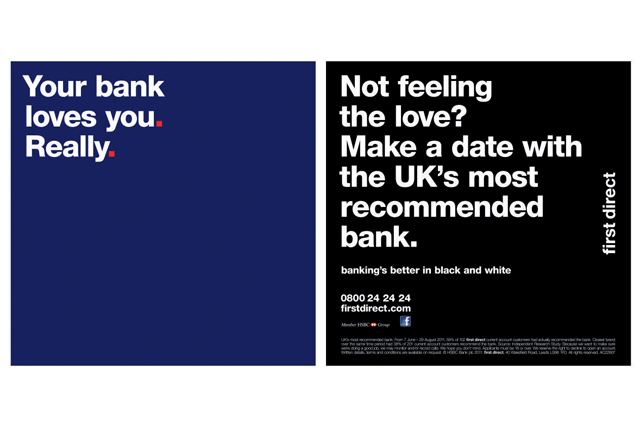 The HSBC-owned online and telephone bank has rolled out an outdoor and digital campaign, which parodies other banks' marketing in an attempt to highlight the benefits customers might derive from switching to First Direct.
The creative features two text-heavy ads, placed side-by-side. One is a mock-up of a rival bank's message, which is countered by the First Direct ad. The mock-up also uses the brand colours of the rival bank.
The outdoor campaign, which will be supported online, is targeting commuters, using poster sites across key transport hubs. The posters appear in bus-stop sites near relevant high-street banks.
Ad agency 141 created the campaign, while Mindshare handled the media.
A First Direct spokeswoman insisted that the campaign was intended to be 'eye-catching' and said any comparisons with other banks are due to 'individual opinions'.
First Direct is aiming to tackle what it calls 'extreme inertia' in the banking sector, with only 5% of consumers switching banks each year. It claims to have a higher customer satisfaction rate than any high-street bank. The campaign is the first to roll out since former head of marketing Paul Say left the business in August.
First Direct has a track record of attempting to convey a transparent approach in its marketing.
Two years ago, it launched a press, outdoor and digital campaign that included both positive and negative consumer opinions of the brand.
While other finance brands have taken a cautious approach to social media, First Direct has embraced the channel as part of its 'openness drive'.
In recent years it has created a social media hub, called 'Live', which aggregates First Direct sentiment and content from the web.
Follow Sarah Shearman on Twitter @shearmans