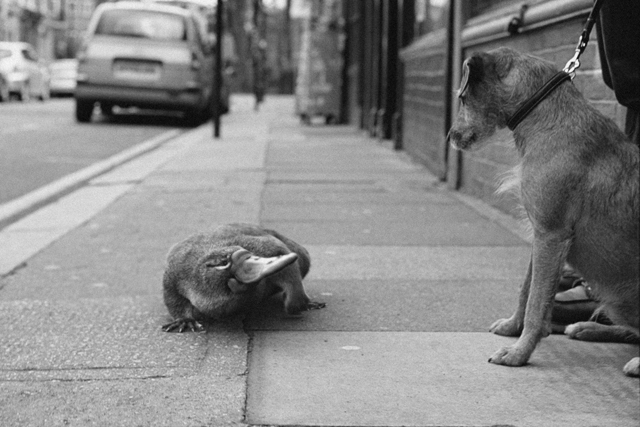 The HSBC-owned direct bank, which celebrates its 25th anniversary next year, is set to launch a six-month campaign to drive awareness among younger consumers and reinforce its customer service message.
The campaign, by JWT London, includes a humorous 60-second TV ad featuring a platypus character travelling across London explaining why it is a First Direct customer, including visits to a cafe, vintage record store and a pub.
The platypus character was chosen to lead the ads because it is "half bird and half mammal", showing that First Direct "is a different kind of bank" while also dialling up the "quirky" and "individualistic" elements of the brand.
TV activity will be supported with print, outdoor, cinema, and social activity, including a series of "blooper" clips relating to the TV ad.
Print and outdoor ads (see below) will carry "witty" messages on a plain black background, with lines including, "If a tomato is a fruit, then we're a bank," and, "We're the crab that walks forward."
Media buying and planning for the campaign, which launches this week, was by Mindshare.
Marketing spoke to First Direct head of marketing Lisa Wood (right) about the change of direction, and why the brand is focusing on younger consumers.
Why go for the quirky creative approach with this campaign?
It's very un-bank-like in its nature, and we're trying to really reignite the challenger element of our brand and show we're a different kind of bank. In many ways it's typical First Direct: very quirky, irreverent and dialling back up what we stood for 23 years ago.
Why do you think younger consumers switched off to the brand, and when did that happen?
From a proposition perspective, in 2007 we raised our income threshold, so to open an account with First Direct you had to be paying in £1500 a month into your account. That started to point us towards an older audience, and it's been a bit of a barrier for the last few years. We've taken that down again to £1000, which is where it used to be, and it opens the opportunity for more people to come and bank with us.
Was there a feeling that the way the brand was being presented needed to change to appeal to younger audience?
When we put the payment threshold in, our target audience changed and our marketing was more aimed at the early-30s to mid-40s audience. When you're creating communications, if that's your brief then that's what you create and how you position the campaign. What you don't want to do is attract a whole lots of young people who you know won't get through the door. That's not very good customer experience.
Is there a specific reason to try to now appeal to a younger audience?
We get a lot of recommendations, but those customers tend to be older and they then speak to their family and friends, people like them. We haven't put as much money into marketing and, as a result, our general awareness levels have dropped.
We're now seen as a quiet brand, whereas it used to be quite a loud brand. Those factors have led us to a place where we realise we need to re-energise the brand, but, equally, for any business to have longevity they need to have a good range of customers.
That's why the job now is to bring back some younger customers.
With the traditional high street banks embracing new technologies, has the concept of a direct bank itself needed a refresh?
That will always be the case, irrespective of digital. We're a direct brand and we've always been at the forefront of the digital enhancements. Now all the other brands offer what we used to do, what differentiated us, but the one thing we absolutely pride ourselves on above technology is providing great customer service. That really is the messaging behind the advertising.
Whether you can do something on the internet, some of this stuff is hygiene now. We can offer it, do your internet banking and a mobile banking app, but the stuff which still differentiates us and differentiated us 23 years ago is that we just get things sorted, and we take the pain away from dealing with a bank branch.
Will a service message, rather than one relating to innovative technology, best resonate with younger people?
There are frustrations that resonate with that younger audience. While day to day, most banking can be done online or via mobile, they want a bank that fundamentally makes things easy for them. Customer service still absolutely matters to that audience.
We want people to stand up and question if there is a better alternative.