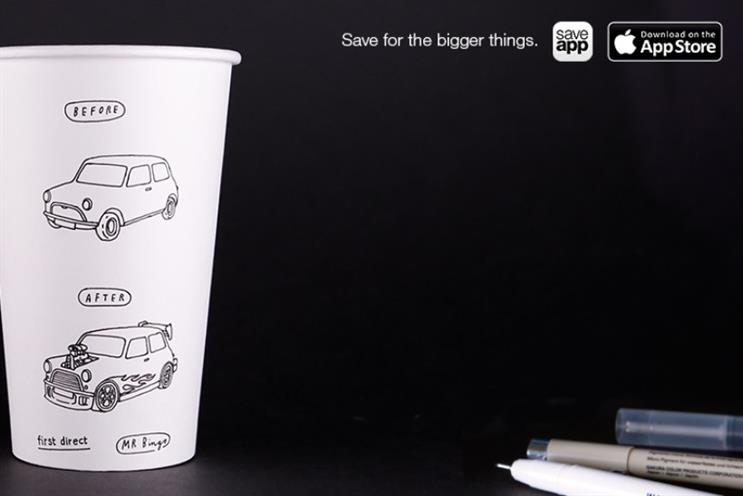 Created by agency We Are Social, the campaign uses the price of a takeaway cup of coffee as a unit that consumers can relate to their savings goals, with the campaign's visual canvas itself a paper cup.
First Direct and We Are Social have recruited illustrator Mr Bingo to create the visuals for the campaign, which launches tomorrow (15 April), when First Direct will ask Twitter members to share their savings goals with the online community.
The HSBC-owned banking brand will respond to selected tweets with personalised coffee cup artworks created by Mr Bingo. Each illustration will show how many coffees would pay for that individual user's goal, be it a new car, holiday, item of clothing or gadget. The tweets will link to First Direct's SaveApp.
Influencers including lifestyle, fashion and finance bloggers will be targeted by First Direct, with the bank sending them bespoke cups of coffee; and the social element of the campaign will be bolstered by paid-media activity.
Zoe Shore, First Direct's head of talking to customers, said: "It can be hard to make saving seem realistic and relatable, but by associating it with something many of us do every day in buying a cup of coffee, saving goals seem a lot more achievable."
Tom Richards, account director at We Are Social, added: "People often don't realise the vast amount you can save by making small changes. This campaign highlights one of the ways SaveApp can help you with your savings goal and cutback on little things like takeaway coffee, in a fun and engaging way."
---
Recommended