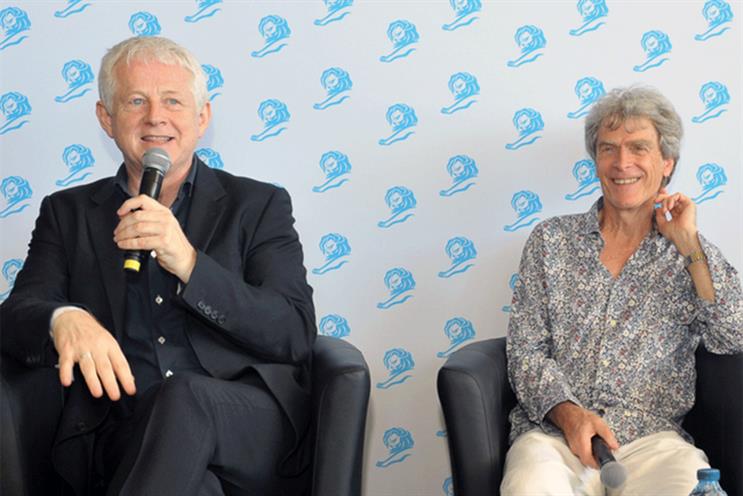 Hegarty was speaking alongside Richard Curtis, the film director and founder of Comic Relief, today at Cannes Lions.
They spoke ahead of the United Nations' launch in September of Global Goals, a series of targets to end poverty and tackle climate change by 2030.
Curtis has founded Project Everyone, which aims to get seven billion people in seven days to see these goals.
The centrepiece of the body's campaign will be "the first global cinema ad" which has been created by Hegarty and will be shown in cinemas around the world on the 25 September.
Cinema attendees will be asked to download the Cinime app, and to "leave your phone on – except on silent."
At a packed morning session, Hegarty talked about the creative concept behind the 60-second ad.
He said: "Every country has got together and signed up to a set of protocols. I thought that's the moment we should capture. That's what the ad should be about. Except instead of having all the delegates, wouldn't it be great to have the animals that represent the countries instead?"
Each delegate will be represented by their country's national animal - a lion will represent the UK. The animals will be animated by Aardman.
Hegarty added that instead of creating an ad that showed how dreadful the world is, they should make it fun.
"What advertising teaches you is that if you can entertain and engage people they will listen, rather than this constant stream of negativity. It can be fun, we can help people, it doesn't have to be dire," he said.
He praised the cinema ad format, saying he has always adored it. "Everyone talks about the size of their smartphones but cinema is the mother of all screens."
There was a fun exchange between Curtis and Hegarty when the pair discussed the fact that a llama will be the first animal to feature in the ad. Hegarty said this is because "I find llamas very funny".
Curtis then asked the audience: "Is there any sense that John looks like a llama?"
Curtis said the campaign was important to galvanise people to hold governments to account: "The governments sign up to the goals but then ignore them. It's for the people to get the governments to adhere to these goals."
During the discussion, actors Freida Pinto and Chiwetel Ejiofor also made a surprise appearance on stage.