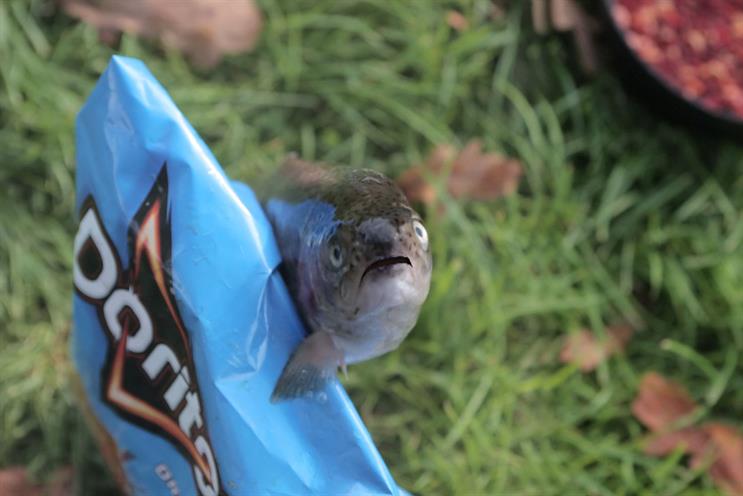 A snack-stealing fish stars in a spot created and directed by Blighty's own James Bedford that made the ten-strong shortlist in the annual Doritos "Crash the Super Bowl" ad contest. The freelance director is hoping the hours he spent what he calls "trout-puppeteering" will land him the $1 million prize. Bedford is no ad virgin, but says making the film entirely by himself (including playing the angler character) was a challenge, especially when his "stunt" trout got gobbled by a passing rat. See it on campaignlive.co.uk.
Kat and spouse?
Congratulations to Kat Turner, a front-of-house staffer and PA at the advertising agency MBA, who was on Saturday's episode of the ITV dating game show Take Me Out. Turner told Campaign it was "really hard work making the show" but said she had "a lot of fun with all the girls and the production team". Turner got picked to go to Fernando's, Tenerife, with a tattooed contestant, Scott – and, according to her agency, is still dating the fella. Let the planner see the brief… or something along those lines.
Where there's a Will…
Remember Will Bower? He was the enterprising chap who scored a placement at VCCP – as well as national news coverage – after creating a video job application in which he interviewed himself in the style of David Brent from The Office (tinyurl.com/oqsc2vb). Ever the chancer, Bower was spotted e-mailing Ian Pearman – the chief executive of rival agency Abbott Mead Vickers BBDO – while he was still at VCCP. Apparently, the canny grad had been buying Google ads for chief executives' names so, when they searched for themselves, they would see his ad. Alas, Pearman had to be prompted since he hadn't Googled himself (that week, anyway). Still, the lad could go far.
Got a diary story? E-mail us at campaign.diary@haymarket.com