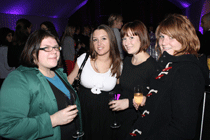 Fisher showcased its new AV equipment and furniture at the event, which took place on Monday 19 October.
The venue, Marque II in Vauxhall, is normally used as a private members luxury car company.
Canapés at the event were supplied by Moving Venue Catering.
"The theme of the party was Boutique Chic, with an element of kitsch thrown in," said Fisher Productions marketing manager Jason Down.
For pictures from Fisher Productions' Boutique Chic at Marque II, click here.
To leave a comment register and let us know your thoughts.