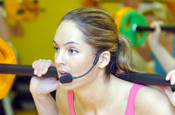 It is understood that six network agencies have been shortlisted. The pitch, which is being handled directly by the company, is set to take place in December.

The shortlisted agencies were contacted last week with a brief, which involves both advertising creative and brand strategy work.

In August, Fitness First launched a review of its estimated £1 million UK media planning and buying account.

The former incumbent PHD, which had worked with the health club company until 2006, declined to repitch. Since 2006, Fitness First has worked with The Media Shop. A decision has yet to be made.

In the past couple of years, Fitness First has partnered with other businesses, such as Realbuzz.com, a lifestyle social networking site, and the British Heart Foundation, in a bid to increase membership and encourage members to use its gyms on a regular basis.

Fitness First, whose first club opened in 1993, has 1.5 million members globally and more than 550 clubs across Europe, China, Australia, the United Arab Emirates, Hong Kong, Malaysia, the Philippines, Singapore and Thailand.

The private equity group BC Partners acquired Fitness First for £835 million in 2005 from Cinven.