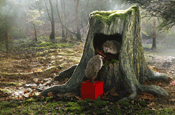 Starcom, OMD, Arena BLM, Universal McCann and incumbent Carat, will take part in the pitch, which is scheduled for 24 and 25 November.

The pitch process will include an online auction on 17 December. Santander plans to inform agencies of its decision on 19 December.

The review includes media for Abbey as well as Alliance & Leicester and the savings arm of Bradford and Bingley, both recently acquired by Santander.

Carat originally won the Abbey business in November 2005 following a procurement-based online auction.