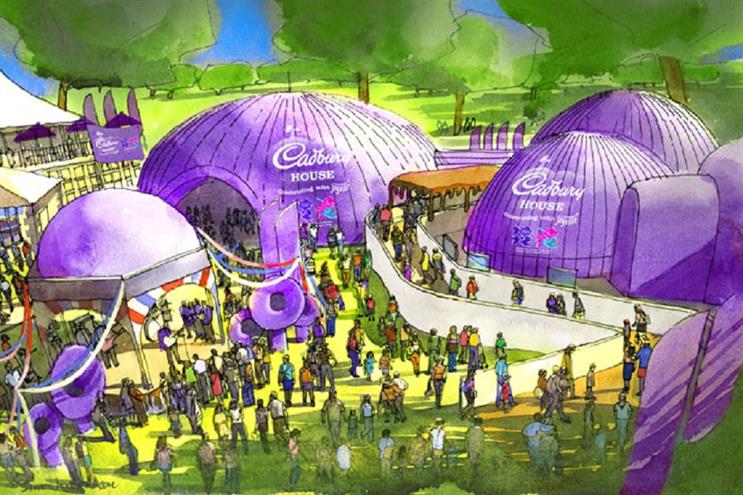 Cadbury House
The confectionery brand worked with agency Pretty Green to create a Willy Wonka-style experience as part of its sponsorship of London 2012 Games. A huge purple inflatable structure was erected in Hyde Park comprising of three domes each housing a different Cadbury experience.
Members of the public were invited into the Joyville zone where they could sample some chocolate before moving into the Chocolatrium which housed experiences for Twirl, Creme Egg, Wispa, Freddo and Dairy Milk.
The Great Games Zone gave guests a taste of what it's like to be an Olympic athlete with the chance to go head to head in a virtual race against Rebecca Adlington before receiving their celebratory chocolate medal. The experience won an Event Award for Best Brand Activity in 2013.
Where: Hyde Park, London
When: 27 July-12 August, 2012
Cisco House
Technology networking giant Cisco built a temporary base on the rooftop of Westfield Stratford City to coincide with the Games.
The split-level, interactive experience was created by agency George P Johnson and used Cisco's latest kit to showcase future technologies and how technology has impacted on London.
The top floor of the structure featured a networking lounge with a balcony offering views over the Olympic park and stadium.
Where: The roof of Westfield Stratford City
When: From 19 April 2012 for five months
Mizuno Performance Centre
Global sportswear brand Mizuno used London's Centre Point as the location for its sports themed pop-up experience. Customers were invited to try out the latest products, interact with sports stars and explore more about the brand's Japanese heritage.
A series of activity zones based around sprinting, football and handball tested guests' speed, agility, accuracy and power, with prizes for the highest scores.
The venue also showcased Mizuno's limited edition Seiei Collection of footwear and was decorated with bespoke sporting artwork by renowned Japanese brushstroke artist Hidekichi Shigemoto.
Where: Centre Point, 103 New Oxford Street
When: 24 July-12 August, 2012
Omega House
The luxury watchmaker and official Olympic timekeeper created an exclusive retreat for its ambassadors and VIP guests at the House of St Barnabas in Soho.
Each room was themed around particular product ranges. The Ladymatic Lounge, for example, was decorated in classic tones and elegant floral arrangements, while the space-themed Speedmaster Bar, named after the first watch to be worn on the moon, offered a galactic experience.

A schedule of special events took place each evening, including exclusive film screenings and celebrity appearances.
Where: House of St. Barnabas in Soho
When: 27 July-12 August, 2012
The Puma Yard
Sports brand Puma hired agency Innovision to create a Jamaican-themed fan experience to celebrate its association with the Caribbean island at The Boiler House in the Old Truman Brewery.
It was divided into two areas; the Puma Social Club hosting events, club nights and activities inspired by the social clubs Puma has launched in cities around the world, and the Back Yard featuring food stalls serving Jamaican cuisine, a beach bar, and large TV screens showing Olympic events.
Visitors could test their speed against the world's fastest man, Usain Bolt, on a Puma Speed Test game, shop in the retail space built from four 40-foot shipping containers or enjoy a drink on the rooftop deck bar.
Where: The Bolier House, East London
When: 27 July-12 August, 2012