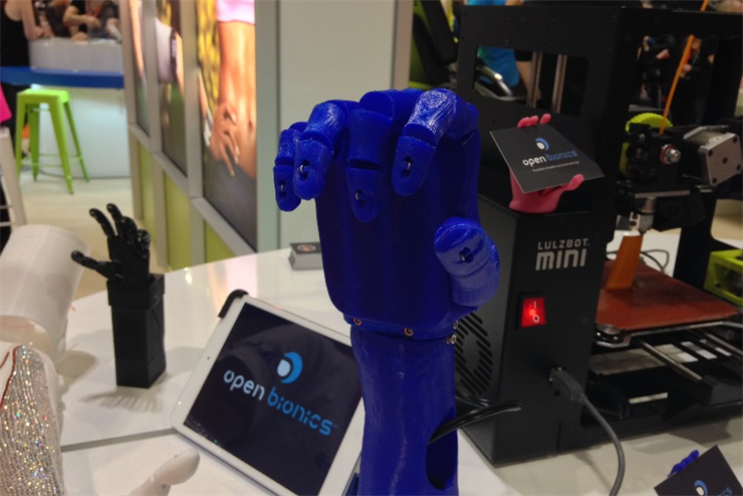 That isn't just down to technical barriers, like the fact that many devices don't work properly. Poor battery life and tiny screens means the functionality of most consumer wearable technology is still limited.
But more importantly, consumers don't see how wearable technology fits into their lives. That may be why Apple has focused less on technology for its marketing around the Apple Watch and more on desirability. Where there's no clear purpose, it might just be easier to appeal to consumers' sense of greed.
Marketing headed to the Wearable Technology Show in London to see if wearable devices are getting any smarter and, crucially, more useful.
Intel's 3D-printed Osteoid cast
Osteoid is a strong, 3D-printed cast that both looks nice and allows patients to scratch itchy skin as their broken bones heal. The cast might also help doctors track whether the bones are healing as expected, since it contains a port for a monitoring device.
Visijax's cycling jacket
Visijax creates hi-vis jackets with a twist - the embedded LEDs are washable. Those for cyclists contain built-in indicator lights, making for better visibility in the dark. The company is working on a new range of jackets targeted at industry, including the emergency services.
SunFriend's sunshine tracker
The idea behind SunFriend is to enable kids and adults to enjoy the sunshine without the accompanying skin damage. It's a simple watch-like device that straps onto the wearer's wrist and tracks their exposure to harmful UVA and UVB rays.
The current version asks the wearer to input their sensitivity level, according to a scale devised by the World Health Organisation. The wearer then manually checks their exposure levels by tapping a button on the device every few hours. A new version of the bracelet will pair to the wearer's smartphone and allow them to track exposure levels for multiple family members.
Lechal's haptic shoes
Indian start-up Lechal wants to end the era of consumers walking around with their heads buried in Google Maps, with shoes that tell the wearer when to change direction.
The shoes use haptic feedback - vibration - to alert the wearer when they need to turn left, whether they are walking, driving, cycling or running. The shoes use the Google Maps API, meaning directions can only be as reliable as Gooogle. The shoes will be available in the UK in the fourth quarter this year, a spokeswoman told Marketing.
3D-printed prosthetics
British company Open Bionics is experimenting with 3D-printed prosthetics that are lightweight and affordable. The company was a runner-up in Intel's 'Make It Wearable' competition last year, missing out on the £500,000 grand prize, but is still being funded by the chip firm to test prosthetics for amputees of all ages.
---
Recommended