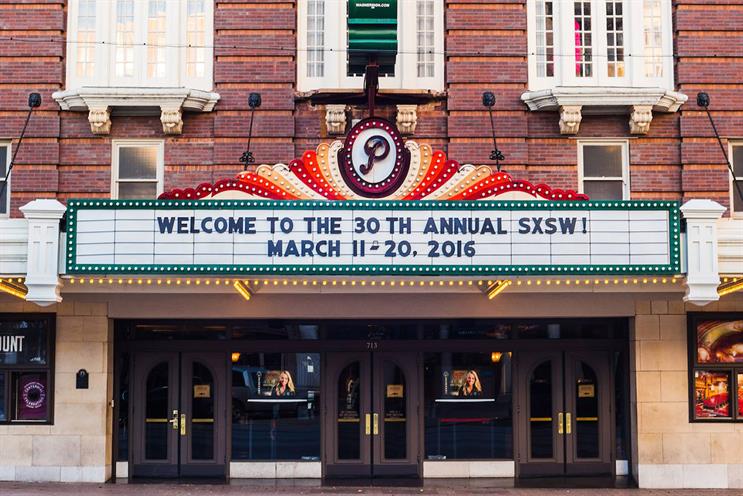 Every year at MBA we say: "we must go to SXSW". And then we say: "it's such a long way and maybe it's an extravagance". And then we say: "we must make sure we're at the forefront of the digital and tech world that we inhabit".
But, by the time we have finished this soul- and budget-searching, we find there are no flights or hotels left that are not the cost of a Tesla and so another year goes by.
So this year my chief technology officer, Alex, and I bit the Texan bullet and found ourselves in one of America's coolest and chilled cities at a festival that is part Consumer Electronics Show, part Cannes Lions, and part Notting Hill Carnival.
Indeed if Austin were in Catalonia or the south of France I suspect most of our industry across the world would be there in force every year. Where else do you get to see the founder of Twitter, the founding editor of Wired, the director of Star Wars, the polemicist Rushkoff, the US government CTO, and a four-star general; play with and witness the latest in VR, wearables, genome tech, robotics and finally demystify blockchain; and hear from the US President himself?
Here are my key lessons from the festival:
1. Book now for 2017 and focus on even less next year
The SXSW event schedule is about as vast as Obama's motorcade outside the Austin Convention Center and it is well nigh impossible to gain a comprehensive view of its content unless you ask one of the week's scariest speakers – Osaka University's Hiroshi Ishiguro – to create Geminoid clones of you similar to those of himself that he chatted to on stage. So we decided to embrace JOMO [Joy of Missing Out] and focus on the digital and tech forces that we considered most pertinent to us and to transforming our clients' businesses right now.
2. AI is here and not so scary
As Kevin Kelly of Wired said: "think of [AI] as artificial smartness" on scale and at speed and not Skynet singularity. It will drive efficiencies and productivity in medicine, in autonomous transport, through the internet of things as well as in marketing, such as with machine-learnt personalisation and search intent strategies.
3. VR and AR are on the cusp
AR could go mainstream with an affordable Hololens (the true heir to Google Glass?) and VR is already with Samsung Gear – each creating immersive and social worlds, particularly when the headsets are used in conjunction with tactile experiences which account for at least half of their impact.
4. Wearables still have a way to go
Biometric data is undoubtedly the new oil for many businesses. The Under Armour chief executive's story of repositioning his business as a wearable tech business with their delivery of a complete health dashboard was a powerful wearable case. But when shown some of the latest wearables in jewellery and clothing, I left thinking that unless they become the perfect Jobsian blend of design and function they are never going to catch on. When will Burberry and Tiffany enter this market?
5. The 'elephant in the valley' is big
While the founding web spirit of social entrepreneurship – with such Dutch initiatives as The Things Network – seemed alive and well in this collaborative community which the US government now wants to get very close to, we learnt many shocking statistics from a survey of senior Silicon Valley women such as 84 per cent experiencing no eye contact from male colleagues. The ethnicity data was no more positive, so there is clearly a very big hill to climb here.
So there are some of my key takeaways from a thought-provoking festival, rightly placing tech front and centre in our lives while never forgetting – as Twitter co-founder Biz Stone said – "the best tech gets out of way but is totally there when you need it".
Stephen Maher is the chief executive of MBA and chairman of The Marketing Society