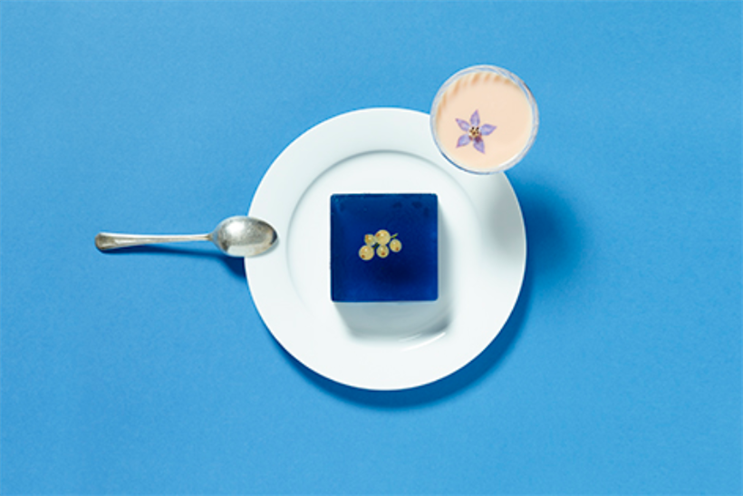 In a bid to publicise the food and drink section of Barclaycard's deal site BespokeOffers.co.uk, the brand hosted a 200 course tasting menu over 24 hours.
The event was held in an old warehouse building in London's SE1. Once the set of sadistic entrepreneur-baiting BBC TV show Dragon's Den, this was for one day and one night the scene of an almost equally (and deliciously) sadistic test of foodie endurance. Four of the eighty diners sampling the menu were in for the long-haul, under strict instructions to have at least one mouthful of every single dish.
Barclaycard partnered with professional 'Jellymongers' Bompas & Parr for this fusion of foodie heaven and endurance test, who in turn had employed the services of numerous top chefs to deliver the inventive dishes.
Four of the eighty diners sampling the menu were in for the long haul, under strict instructions to have at least one mouthful of every single dish
I sampled the Blue Afternoon Snack, which at 20 courses felt rather more substantial than your average 3pm tea and biscuit. It was cooked up by Ottolenghi development chef Ramael Scully and head chef at the Mondrian Hotel's Sea Containers restaurant Fergus Crosby. Both were on hand to introduce each aquamarine morsel.
With a mix of consumer and press diners, the 200 Club created a lot of online buzz and publicity for Bespoke Offers. With that in mind, here are five marketing lessons to take from the event:
1. Act as a patron of the arts
Brands have an opportunity to support creative endeavour via partnerships with key players. In this case, Barclaycard Bespoke Offers landed on a collaboration with kooky-cuisine duo Bompas & Parr. The pair continue to partner with brands, despite also hosting successful self-initiated events, such as their current Alcoholic Architecture bar where punters can inhale gin in a 'cloud'.
Brands are analogous to modern day Medicis
When asked about this, Sam Bompas said that brands are analogous to modern day Medicis. "Brands are patrons of the arts," he says. "There is a long history of wealthy groups supporting artists. Just think back to the Medici family funding the likes of Da Vinci and Michelangelo."
In terms of marketing, acting in this way provides cultural kudos by heightening associations with creativity, innovation and craftsmanship. It also supports the idea that consumers are looking to brands to take on the financial burden of the things they love so that they don't have to.
2. Do something that makes sense, but extends reach
Managing director at Bespoke Offers, Ronnie Denholm, told Marketing that the thinking behind the event was to amplify the purpose of the deals site: to connect consumers with the products they love and things they want to do.
The business' current bread and butter is focused towards product retail, with a focus on the likes of electricals and fashion. Therefore, the 200 Club event was conceived - at least in part - as an attempt to publicise its food and drink offer and appeal to a fresh set of food lovers.
3. Appeal to a passionate tribe
One of the major things that the 200 Club got right was to target a passionate tribe. Food lovers are always eager to extol the virtues of a good meal and they also love to show off about culinary experiences.
"People care passionately about food," says Denholm. "It generates energy and enthusiasm. That's why we're turning up the dial on our food and drink categories."
If you can engage and inspire loyalty within tribes dedicated to specific passion points - be it sports, fashion, music or food - they will act as brand ambassadors, spreading your message for you.
4. Do something original
Although not officially a record, as no one from the Guinness Book was on hand to verify, the event was publicised as the world's longest tasting menu. This provided a hook and positioned the gastronomic affair as something unique and set apart from the glut of Instagrammed plates that fill social media streams on a daily basis.
This is also where partnering with creatives can bring intangible benefits. Bompas & Parr's experience made them perfectly placed to conceive of something truly original within the field of food and drink.
5. Make it social media friendly
More than ever, consumers are looking for shareable experiences. We all know the power of a beautiful plate of food to get people posting, liking and sharing. There are even social networks set up specifically for dinner-snapping influencers.
The coverage on social media has been overwhelmingly positive in sentiment
This was boosted yet further at the 200 Club by the multi-coloured menu. Each sitting, from the Yellow Breakfast to the Pink Dinner, was themed around a different hue. This truly turned each dish into a work of epicurean art, making each one eminently shareable in spite of the potential backlash from followers sick and tired of gastronomic oversharing. On top of this, the real-time nature of each course being delivered to the table, made it ideal Twitter fodder.
Denholm said it really had done the trick: "The coverage on social media has been overwhelmingly positive in sentiment."
He said that this had led to over 30,000 views of a promotional video launched before the event and a 60% uplift in traffic to the food and drink section of BespokeOffers.com.