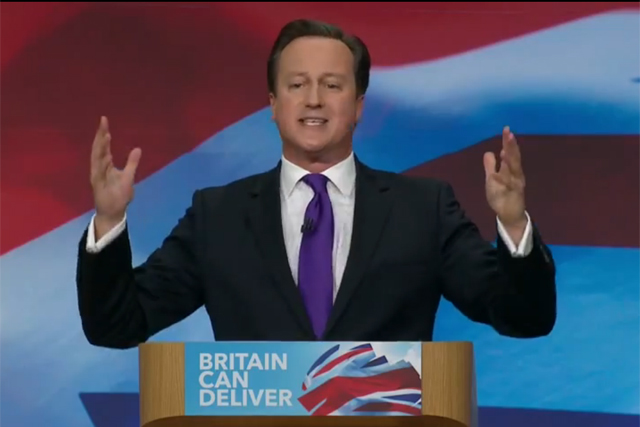 From the main floor to the fringes, ministers sought to show that they were focused not only on deficit reduction but stimulating growth, innovation and championing the cause of the common man.
Below are the top five marketing takeouts:
1 - Brand Britain rules
Both Labour last week and the Conservatives attempted to own 'Brand Britain', as its stock has never been higher following the success of the Olympic and Paralympic Games.
Labour may have paraded gamesmakers at its conference but the Tories arguably went one better, wheeling out cycling gold medallist Joanna Rowsell and Anne Panter, who won a bronze medal as part of the field hockey team, to be interviewed on the main stage by sports minister Hugh Robertson.
On Tuesday, London Mayor Boris Johnson highlighted the role of former PM Sir John Major, who made lottery funds available for elite sports. In addition, alongside the leader's speech, much of yesterday morning was dedicated to basking in the glow of the Games with Lord Coe receiving a warm reception.
Unlike most Labour and Tory ministers, who have paid tribute to the roles both parties played in staging and bringing the Games to London, Culture Secretary Maria Miller was having none of it and went for an audacious land-grab.
"This summer with Conservatives in Government, Britain has regained its pride," she said. "Under a Labour Government the British spirit was dampened. Labour felt apologetic for being British."
Cabinet Office minister Francis Maude, as is customary now, once again boasted about "slashing vanity advertising and websites". But one government marketing campaign that does have backing is the cross-departmental GREAT campaign, set up to promote Britain abroad and at home.
Miller has committed to the continuation of the drive, which she described as "imaginative and inspiring".
She told Marketing: "As a former marketer, I was a fan of the campaign before I actually got this job."
2 - Trust and the consumer
Consumer trust in business is at a low, fuelled mostly by a string of banking scandals. This was a message ringing out from a number of fringes and the main floor.
At an event organised by his organisation, Institute of Directors director general Simon Walker cited gloomy global research by PR company Edelman which showed that just 38% of UK consumers trust UK business, a decline of 6% on 2011. This is one of the lowest scores in the developed world.
Tory backbencher Jesse Norman, regarded as one of the leading intellectuals in his party, explained that what he has termed 'crony capitalism' had led to this situation. Speaking at an event held by the High Pay Centre, a think tank aimed at promoting 'better business', he explained how 'crony capitalism', simply put, was when business activity loses any relation to the wider public interest, while business merit is separated from business reward.
One initiative seeking to make a small difference is the Payments Council. To help restore consumer faith in banking, the membership organisation funded by the major UK banks has committed to make it easier to switch current accounts through the launch of a new service.
Its chief executive, Adrian Kamellard, told a fringe that an ad campaign supporting the change, which comes into force in September 2013, would stress the ease of account switching.
The phone-hacking saga has also played its part in turning the public off corporate Britain. No doubt aware that his government particularly is often seen as being in hock with the powerful, David Cameron found time during conference to meet with singer Charlotte Church, a victim of phone-hacking and a member of the pressure group Hacked-Off.
3 - Driving the digital economy
"Go to tech city and see young Londoners devising apps so that teenagers in America can watch movies and play on their Xbox," London Mayor Boris Johnson urged delegates. He raised a titter when he said they should also visit Soho to observe film industry work on special effects but he succeeded in conveying that Britain's digital and tech industries were at the cutting edge.
To aid the country's competitiveness, a whopping £530m has been earmarked for broadband investment over this parliament. Miller said when this level of spend is queried, she cites McKinsey research showing that a 10% increase in broadband household penetration leads to as much as a 1.4% rise in GDP.
The minister also pointed to the fact that UK consumers are some of the most internet-savvy in terms of their shopping habits - online retail sales account for 10% of all retail sales in the UK, compared with the European average of 6% - another reason to invest heavily in broadband and accelerate this trend.
"Our ambition in this area is strong; to be the best broadband network in Europe by 2015 with 90% of premises having access to super-fast broad," she told a fringe organised by TalkTalk group.
Miller also revealed that in the second week of being culture secretary, she sat down with the 4G providers in an attempt to speed up its rollout, such was the importance of this to the UK economy.
The Government is also trying to change its ways by learning from brands' own digital successes. Cabinet minister Francis Maude told conference: "These days British Airway does everything online that isn't about flying aeroplanes. Government should be doing the same – it should be digital by default."
4 - Responsible business
At a well-attended fringe, Deloitte showcased its Reimagining Business initiative, "a new conversation about what business is for and its crucial role in building a better society".
Stepping into enemy territory to speak on the subject was former Labour Cabinet minister Hazel Blears, who highlighted the role of retailers in meeting this aim.
She told how managers of a Morrisons supermarket opening "in my most difficult estate" sat down together with the local community and reached out to the long-term unemployed by running interviews in the local youth club instead of the job centre.
She told how she had challenged the supermarket to fill at least half the jobs with locals, but it exceeded this target.
"At the end of the recruitment process – and we had to do pre-employment training because people were not in a fit state to go for an interview - we had 82% of people in that store employed there from that local area."
Initiatives such as these could reap rewards for brand equity, she claimed, citing B&Q research which found that 70% of consumers feel more favourable to brands that have given something back to consumers.
David Sproul, senior partner and chief executive of Deloitte, urged a shift away from traditional CSR.
This year, he said, Deloitte would not be issuing a CSR report and instead would release an 'impact' report which takes in the whole business. He also said that instead of "sending many of our energetic people to paint a scout hut", the company would be putting to use the real skills of its people.
At another session, KFC's chief executive Martin Shuker highlighted its newly launched partnership with Barnardos, which helps disadvantaged young people gain work experience.
5 - The return of Big Society?
During his time in opposition, Cameron and his now-departed strategy director Steve Hilton decided to frame the Conservative Party brand around the concept of 'Big Society'. It is widely held that this was a strategic error, as it confused party activists and as a result is said to have flopped on the doorsteps. Some commentators have gone as far to claim an obsession with the Big Society contributed to Cameron's failure to secure a Conservative majority in 2010.
After a notable absence in his speech last year, the Big Society term made a return to centre stage with Cameron admitting that he had spent three years trying to explain what it means while "those gamemakers" at the Olympics did it in three weeks.
With volunteering very much in fashion and the announcement this week from Government that Olympic athletes will dedicate a total of 5000 days a year to teach, mentor and encourage young people in sport, a mainstream revival for Big Society could be back on the cards.