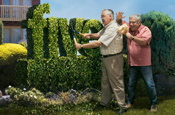 The broadcaster has shifted its £5m ad account out of VCCP and into Grey London without a pitch as it prepares to relaunch its core channel and digital channel Five US with refreshed branding and programming this autumn.
The broadcaster's digital spin-off channel aimed at women, Five Life, was relaunched as Fiver earlier this year. It had intended to relaunch the rest of the channels in its portfolio, but these plans were delayed following the departure of chief executive Jane Lighting and managing director of content Lisa Opie, prompted by the appointment of Dawn Airey as chairman in May.
'We want to be seen as friendly but fiery,' said Carl Ratcliffe, head of marketing and brand strategy at Five. 'We are a public-service broadcaster, but will have a very terrestrial feel to our stations.'
Five is preparing to embark on a marketing drive to support the launches of its two major summer shows, Superstars and Banged Up, in July.