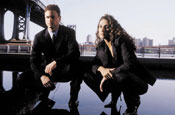 Following the formation of a new digital media team, led by Five head of digital media Jonathan Lewis, discussions are underway between Five and BT Vision, Tiscali and Virgin Media to launch the on-demand service on their respective platforms.

The channel made its first foray into on-demand in 2006 with a service offering paid-for downloads of hit show CSI from its website ahead of TV broadcast.

However, Five has lagged behind rivals in VoD development with ITV, Channel 4, Sky and the BBC all having operated broader services for several years.

Lewis said the new service would offer catch-up viewing and archived content, with a mix of streamed ad-funded and paid-for content.

Five also plans to integrate Five Download with its website, five.tv. He added that this next phase of Five Download would be delivered "within the next two months".

Compared with its main broadcast rivals, Five produces very little of its own programming.
Consequently, it has not until recently had a significant range of programming rights to exploit digitally.

However, last year Five signed a deal with independent producer body Pact to secure VoD rights to indies' programming.

Lewis said: "We want to exploit the pay-per-view and VoD rights to populate the service with as much commissioned programming as possible."

Five is also commencing talks with advertisers to drive ad revenue through the soon-to-be revamped VoD service and for its own website, using Unanimis for online ad sales.

The broadcaster has been reviewing its five.tv website in conjunction with digital consultancy Made By Many. Five plans to work with a rotating roster of between four and five agencies following the site's relaunch in eight months.