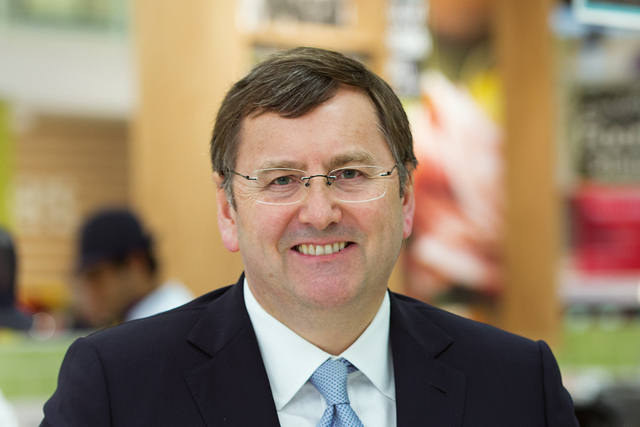 Clarke and his cohorts used the event to talk about measures including ploughing around £400m into cutting prices and helping customers save money on their petrol bills. Marketing outlines some of the other salient points covered by the trio.
Pace of change
Clarke offered investors a "sneak preview" of what 2014 and beyond holds for Tesco, with a focus on plans in the UK.
He listed three areas for investment: a large store refresh programme, convenience stores tailored to their local consumers' needs and digital.
When we get it right, we've been loved and respected by consumers

.
"I've never seen such pace of change in my 40 years at Tesco," Clarke said. "Like many offline retailers, we are facing significant challenges. But we see many opportunities for the long-term – we've got sustainable sources of competitive advantage."
"We're a social business now, a consumer-centric business. Importantly new technology allows seamless connections and greater relationships. We think customer loyalty is even more important in the new era."
He admitted that the supermarket had not got everything right, citing pricing instability that undermined consumer trust in the brand, but added: "When we get it right, we've been loved and respected by consumers."
"Tesco has to be better. Focusing on better is what can make a business like Tesco great again – the right blend of price, range, quality and service."
Digital Clubcard
Later this year Tesco will move into the 21st century and digitise its Clubcard, transforming the loyalty scheme into a "connected and multichannel" format that consumers can use via their computers and smartphones.
"Bricks and clicks" was the phrase Bush used to encapsulate Tesco's future-facing strategy. "When we think of Tesco, we don't just think of 3,000 stores, we think about the customer," he said. Accordingly, it aims to make much more of Clubcard by focusing on two factors: personalisation and greater rewards.
Bush said that Clubcard lies "at the heart" of all Tesco's ambitions: "It's at the heart of our relationship with customers. It's the glue that brings all this together in the way that others can't. It drives customer loyalty and helps personalise and tailor our offer."
He said that offers, prices and deals offered through Clubcard would become more personalised in the future, while there will be greater collaboration with partners to give customers better offers.
"[We want] Clubcard to be the common currency among all brands – Giraffe, Blinkbox [etc.] – beyond the core brand."
Included is Tesco's money-saving scheme aimed at motorists called 'Fuel Save'. The scheme will allow Clubcard holders to redeem up to 20p per litre off fuel from Tesco's petrol stations, which is being launched following a trial in Wales.
Multichannel leader
As Tesco's group multichannel director, Terrell said the aim was to make Tesco "as much a leader in the multichannel world as the bricks and mortar world".
He described multichannel as "cutting across digital and physical", giving examples of how 43% of Tesco shoppers had used their mobile to look up and compare prices while in-store.
Tesco is unique because it appeals to customers from all backgrounds in all demographics.
Terrell painted a picture of what the future multichannel customer journey would look like. The customer looking to cook dinner on a Friday night finds a recipe he likes online via Tesco, adds ingredients to an online basket, enters the ingredients into Click & Collect, checks into a physical store using his mobile, instantly uploading Clubcard vouchers, receives offers via his mobile as he walks around the store and then receives an online receipt without having to visit a checkout.
Tesco is taking at least one step on the road to reaching that destination with the rolling out of Click & Collect across more stores.
Terrell also admitted that Tesco did not make enough Hudl tablets, having offloaded 500,000 units. "But its success goes beyond sales. We've seen daily revenues from Blinkbox increase nine-fold." This year will see the launch of Hudl 2.
"Tesco needs to lead in the new era," added Bush. "Tesco is unique because it appeals to customers from all backgrounds in all demographics. So we must put together the most compelling [offer] for each and every customer."
He said it would achieve this by "creating a seamless, multichannel experience to connect with customers wherever and whenever they choose".
Store overhaul
Bush said that Tesco opens over 150 convenience stores a year and it is investing more money in the concept, as well as accelerating its existing stores' refresh programme to 450 shops a year.
This does not just mean a cosmetic makeover, he insisted. "We know convenience is not just about one size fits all." He said that stores would be better tailored to the needs of local customers, with demographic and ethnic data used to offer relevant products and services.
If the first curve is bricks and mortar retailing,

I see [Tesco]clearly moving to the second curve

.
Tesco's large format stores meanwhile, needed "more compelling reasons for customers to travel further to visit them," so Tesco aims to make them into a more attractive "retail destination" that would see the introduction of brands such as Giraffe restaurants, Cook & Dine and Home departments. "You'll see them roll out in more stores in the year ahead."
Plans are to complete the overhaul of Tesco's entire estate by 2017, Bush said.
The 'second curve'
"I see us clearly moving to the second curve," Clarke said. "If the first curve is bricks and mortar retailing; 17 years ago when [former CEO] Terry Leahy pioneered home shopping, that's the beginning of the second curve."
He said that the future would not distinguish between online or offline, but would be a seamless integration of the two. "Critically you can't forget the lesson about customers being at the forefront of the second curve," Clarke added. "How businesses bridge the gap between the first and second curve is critical."
"If you reinvent you've got more of a chance of growth in future. Bricks and clicks will power growth in long term and medium term."