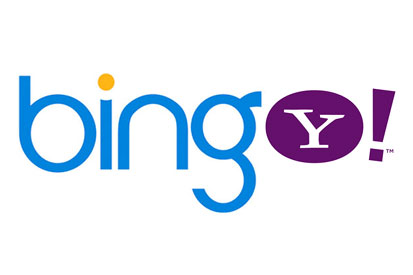 The deal between Microsoft and Yahoo represents a tectonic shift in the global search marketplace, with Yahoo adopting Microsoft's Bing search engine and all search marketing now being run through Microsoft's AdCenter platform.
The big question on everyone's lips now is what does this mean for search marketers?
1) Its going to improve ROI in search marketing campaigns. At a simple level, the coming together of these industry giants will simplify search marketing by reducing the number of different engines to bid across.
Yahoo and Microsoft together will enjoy a meaningful market share that's going to be more interesting to marketers than the two companies individual offerings.
By cutting down on campaign management overheads, the deal will enable search marketers to focus their efforts even more keenly on maximising campaign ROI.
2) It shows that Microsoft couldn't make it alone. At one level this is an admission of defeat by Microsoft. Despite the brave promises of multi-million dollar advertising spends when they launched Bing, Microsoft has been unable to make a dent in Google's dominance.
The coming together with Yahoo will massively enhance Bing's market share, but at a significant cost to Microsoft in terms of revenues from search marketing.
When faced with a dominant market player Microsoft have traditionally overcome the problem by buying them - they can't buy Google so they've done the next best thing.
3) Is Bing a real challenger? This deal shows one of two things. Either that Yahoo thinks that Bing's search has the potential to really challenge Google as a consumer search offering or that Yahoo simply didn't have a better choice.
Since the failed Microsoft merger last year Yahoo has been on a downwards spiral and, some argue, this is their least worst choice.
On the other hand, Bing's results have been perceived by some to be nearly comparable to Google's in terms of quality so is this actually a decision driven by a positive belief in the possibility of real market change? Only time will tell on this point.
4) Yahoo and Microsoft both still have a long way to go. Even with their combined audiences, Bing will still on have 28% market share compared to Google's 65% (June 2009 Comscore US) and that's a big gap to cross.
We can expect Microsoft to continue to grow its audience through further partnerships or acquisitions, either with smaller global search players such as Ask or AOL, or perhaps with regional players in China and Eastern Europe, but for the moment Google remains very much on top.
5) This could mean the end of some valuable free tools. Yahoo currently offers a range of free tools for search marketers that many rely on for their daily work - for example Yahoo Site Explorer is an invaluable asset for all search marketers.
Nothing's been made public on this so far but there's a real risk that some of these assets could be lost as a result of this deal.
So for search marketers there are ups, there are downs and there are questions that this deal brings up.
What is clear is that it represents a significant change in the search market, for consumers and marketers alike. We won't know the full implications of this deal for some time and much of the devil could well be in the detail. For the moment, watch this space.