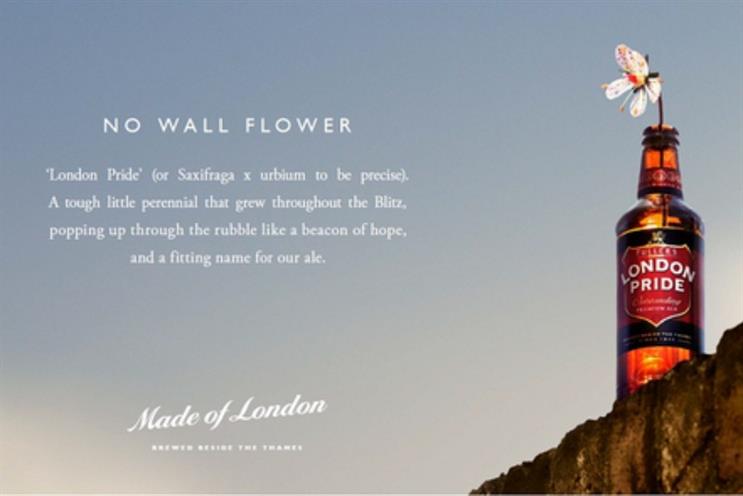 This week London celebrated London Beer Week for the first time, with many brands and establishments putting on special events for beer lovers across the capital.
In celebration, Stuart Humm, creative director at Coley Porter Bell, has offered his take on some of the best beer campaigns throughout the years. His expertise comes not only as a marketer working in the beer and spirits category but he brews his very own beer.
"For me the best beer campaigns are the ones that stay with you, the ones that make you smile and the ones that ultimately create an image that you identify with and are happy to be heard 'calling' out. 'Bar call' whether its on-trade or off-trade is the Holy Grail for any beer brand. Fosters even made a campaign out of it with 'Good Call'," he says.
1. 'I bet he drinks Carling Black Label'
WCRS's Dambusters commercial was the pinnacle of the 'I bet he drinks Carling Black Label' campaign. An award-winning ad, it is one of the funniest beer commercials to date. It successfully plays to the banter and competition that exists between the Germans and the English, spoofing both the war and football. This combination connected beautifully with its consumers. It's a well-executed commercial with great detail right through to the end, when a bouncing bomb skims the pint glasses.
'I bet he drinks Carling Black Label' was a fantastic campaign and is still in the DNA of the brand today.
2. 'The King of beers'
This example is a poster that appeals to the designer in me. Budweiser has been called "The King of beers" since the 16th century, which makes this press ad even more of a gift. Its creators must have been smiling from ear to ear when they made that visual connection.
It is simple, iconic and bang on brand.
3. 'Made of London'
London Pride brewed by Fuller's in London uses story telling to leverage the brand's heritage and provenance with its 'Made of London' campaign. One of the executions that stood out for me was 'No wall flower': In the post-war era Fuller's needed a name for its new ale. It cleverly crowd-sourced one by asking Londoners. It resulted in 'London Pride' – the name of a flower (Saxifraga x urbium), that grew over the rubble of bombsites during the Blitz.
Beer was more local then than it is today so capturing London's indomitable spirit in a beer brand was a touch of genius. Whether you're a Londoner or not this sentiment and story telling is appealing, (as its worldwide distribution proves).
No Wall Flower. #MadeofLondon pic.twitter.com/rg7DrYFjYh
— London Pride (@London_Pride)
August 20, 2013
4. 'The drink of England'
This campaign by Kindred for Bombardier really grabbed my attention when it launched. It had, until that point, been playing to more expected associations of Englishness which were, at best, generic. The turning point for me was a poster campaign creating beautifully executed crests out of things that are positively English – a great idea for the brand.
From Dickens to Dell Boy, the English-associated imagery was well placed to turn on the typical ale drinker. Overall the campaign felt more ownable and positive which connected with me on a more emotional and importantly, deeper level.
5. 'Good things come to those who wait'
Turning a negative into a positive – the 'Good things come to those who wait' campaign by AMV BBDO did this beautifully for Guinness. I'm told it takes two minutes to serve the perfect pint of draught Guinness and this campaign, which developed into 'Longest wait' showing drinkers 'de-evolving' through time, gave bartenders licence to take their time when pouring a Guinness.
The 'Swimblack' commercial, followed by 'Surfer' ran to critical acclaim. The latter was, for me, the highlight. Using the metaphor of Hawaiian surfers waiting for the perfect wave was brilliant. Beautifully executed in black and white to reflect the product and with a kick-ass bass line.
What is your favourite beer ad? Add yours in the comments below.
---