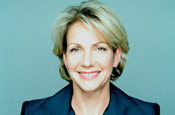 In an interview for
Media Week TV
, Five chief executive Jane Lighting said that, following the rebranding of Five Life to Fiver, the RTL Group-owned broadcaster is turning its attention to core channel Five, which is set to receive a "brighter, lighter look".
Lighting said: "Later this year you will see a new look to Five. Again [as with the Fiver rebrand], to reflect the change in programme strategy as we evolve it during the course of the year."
Five's female-focused digital spin-off, Five Life, was relaunched this week with a new name, Fiver, as part of a refresh of the broadcaster's digital TV brands.
The channel launched on Freeview 18 months ago at the same time as Five US.
A new on-screen look, developed by brand consultancy Dave, will be backed by a marketing campaign planned by ad agency Vizeum.
Lighting also confirmed that Five is holding discussions with Kangaroo, the planned on-demand service from BBC Worldwide, Channel 4 and ITV. She added, however, that Five is also in talks with other potential on-demand partners.
The interview with Lighting is live on mediaweek.tv from today.