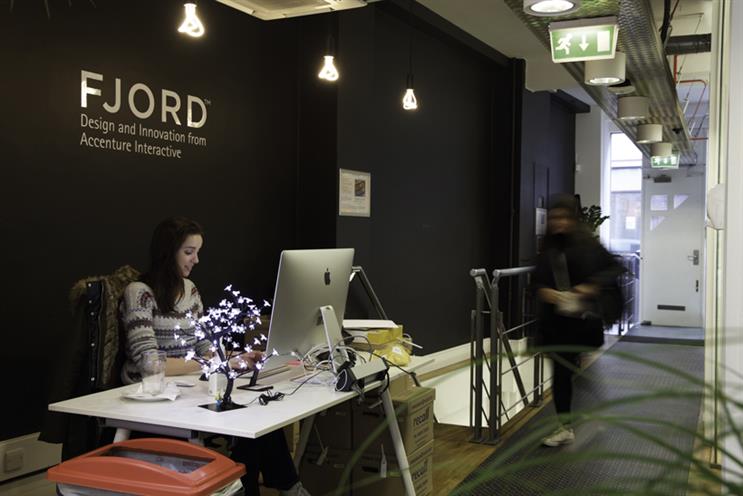 Fjord's London home is a cramped townhouse just around the corner from the BBC headquarters and it feels like a boutique outfit with limited resources.
Only Accenture Interactive's name, below Fjord's logo, on the front window and reception wall signals that the design agency is owned by one of the world's biggest consultancies, with $33bn in revenues and 384,000 staff.
Advertising and creative people have watched Fjord closely because it was one of Accenture's first acquisitions in marketing services in 2013.
It has been a guinea pig in terms of proving whether a small agency could thrive within the consulting giant. When Karmarama sold to Accenture in November 2016, it talked to Fjord's team before agreeing the deal.
Fjord, which was founded in London in 2001 and worked on the original design of the BBC iPlayer, has grown rapidly under Accenture's ownership, quadrupling in size from 200 to 850 staff and expanding its footprint from nine to 23 offices. Two of the three co-founders, Mark Curtis and Olof Schybergson, remain in the business.
Abbie Walsh, managing director of Fjord London who joined in 2008, believes the agency has "not only maintained but strengthened" its culture – within what Accenture likes to call "a culture of cultures".
Fjord and Accenture Interactive share a common interest in "designing products that will change customers' lives", Walsh says. "The big sea change [since the sale to Accenture] has been the amount of very senior clients who give us big problems that we can solve through design has hugely increased."
The agency now works on more ambitious briefs – often with other parts of Accenture. For example, Fjord has partnered Javelin Group, Accenture's retail arm, to "create and implement a new multichannel strategy" for one of Europe's largest home-improvement retailers to "deliver a more personalised customer experience" and "accelerate its digital transformation".
Another project involved helping electricity and gas group Engie transform its retail business by "rethinking the customer experience" through design and innovation. Meanwhile, it redesigned the mobile site for Spanish news-paper ABC.
Joy Bhattacharya, managing director of Accenture Interactive and UK and Ireland lead, says the company bought Fjord because of its expertise in "service" design and could see how "that would then flow downstream" into an improved "digital experience" for clients. "What surprised us once we introduced Fjord within the Accenture Interactive family and Accenture generally is how people understood the value of design," he says.
Walsh admits joining Accenture "shone a bit of a light on where we needed to grow up". A marketing source who knows Fjord says: "The first 18 months were a big adjustment. But what it has given them is tremendous access to the boardroom that they wouldn't have got as just Fjord." Accenture has also traded on Fjord's hip design credentials. "They have flown Mark Curtis all around the world to meet clients," the source says.
It helps that brands understand the growing importance of design. Jim Prior, chief executive of WPP's The Partners and Lambie-Nairn, says: "There's been so much fragmentation in channels and messages. Organisations need to go back to some central idea around their brand." However, Prior has doubts about consultants moving into creative services as they have "a different attitude towards risk", he claims, adding: "They'll logic an idea to death."
Accenture can point to double-digit growth in digital-related services to show that clients like what it is doing. Bhattacharya talks about how design is "bringing to life" the customer experience for clients. Accenture has always been good at "feasibility" and "deliverability", he says, but Fjord helps to increase "desirability". Fjord and Accenture Interactive have even created a "Love Index" for brands to "measure the degree of delight that our customers have when engaging with a product or service", he explains.
All this talk of love can't disguise the fact that Accenture is a threat to traditional ad and creative agencies.
Accenture's M&A spree
Accenture's acquisition of Fjord in 2013 marked the start of a major expansion by the consulting giant into digital, marketing and design. Accenture Digital, a standalone arm that includes Accenture Interactive, launched in the same year.
The ambition was to create the world's biggest digital agency. Accenture saw that brands wanted help as they were at the beginning of what it called "a decade-long adoption curve" for new technologies and were undergoing "significant transformation".
The group spent $740m on mergers and acquisitions in 2014, $800m in 2015 and $930m in 2016, and has been the most acquisitive of the consulting companies in marketing services. Its purchases have included Brightstep in Sweden, Chaotic Moon in the US, AD.Dialeto in Brazil, PacificLink Group in Hong Kong and a stake in IMJ Corporation in Japan.
Accenture's revenues from digital-related services – a sector that chief executive Pierre Nanterme has dubbed "The New" – rose 30% last year, and Accenture Interactive claims that 70 companies in the Fortune Global 100 are clients.
The group plans $1bn of M&A in this financial year, during which it has already bought Karmarama in the UK and SinnerSchrader in Germany.
Brian Wieser, an analyst at Pivotal Research Group, says the move by Accenture, Deloitte, EY and others into areas "adjacent to agencies" poses a growing "risk" to ad holding groups, which all faced questions about this trend at their recent results.
Sir Martin Sorrell told investors he takes Accenture's ambition "seriously", although the WPP boss suggested that the threat was not "substantial".
Omnicom's John Wren has been "very vigilant" about consulting companies "for the last 20 months" and is hiring "people with similar skills". But he has not run into consultants on major ad pitches yet and questioned whether they can just "gather these skills through acquisitions" because independent shops have such "different cultures".
Interpublic's Michael Roth said consulting companies have been chiefly "doing system integration" and "they're not going to be able to compete on the creative side". He admitted consultants have an edge when it comes to advising on "business transformation", but noted that R/GA is a leader in this area.
Ad groups say privately that they are finding themselves in competition with consultants over M&A. So far, consulting companies have acquired small agencies on an incremental basis. But Wieser says: "It is entirely plausible that one of them would at some point try to buy one of the holding companies or at least the larger independents."
Campaign is hosting a breakfast briefing with Accenture and Karmarama on 14 March.
See more at http://www.campaignlive.co.uk/events/breakfast-briefing