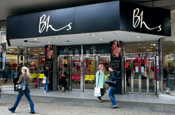 Last week, high-street retailers including Debenhams, Marks & Spencer, Bhs and Wallis launched flat-rate discounts on all products in-store for one to three days to galvanise consumer spending.
Retailers have predicted that sales this Christmas will be the worst for 30 years. According to customer and market in-sight agency Nunwood UK, consumers intend to cut their Christmas spending by 6%.
However, the 'flash' sales did boost footfall, and both the Debenhams and M&S websites crashed due to volume of traffic. Despite this, Ed Garner, director of research at TNS, warned of the tactic's risks.
'If retailers can create land-grab, they can take sales from competitors, but they are reducing their own profit
margins, and canny consumers are returning goods bought at full price, then buying them again at a discount.'
A Debenhams spokesman said: 'Our three-day sale created a real buzz. In Bromley, for example, the high street was dead apart from shoppers with Debenhams bags.'
There is, however, a danger that the apparent sales increase will mask a mere redistribution of activity, and sales will go on to drop as shoppers simply finish their Christmas shopping earlier. Garner added that many consumers now expect to buy products at a discount, so wait for promotions.
Freddie George, a retail analyst at Seymour Pierce, said: 'Retailers probably get the money back from these discount bonanzas in sales and profits, but the following days will be quieter. It might work initially, but not long-term.'
Debenhams, which has run a November discount event for several years, invested £20m in reducing prices this year.
Martin Shellaker, SMP's head of sales promotions, warned that, despite the boost to sales volume and PR, marketing budgets could be cut to pay for discounts. 'Excessive discounting damages brand value and affects a company's ability to bounce back once the threat of a recession has passed,' he said.