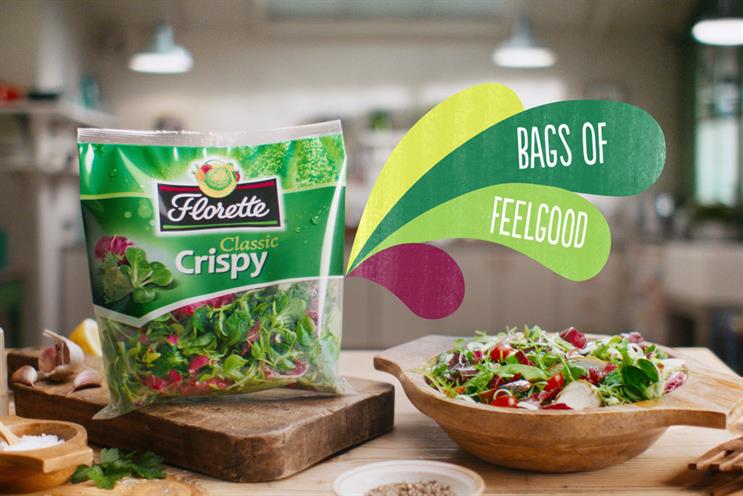 Around a third of shoppers who buy bagged salad only do so during the summer months when the sun is shining, according to Florette.

M2M is handling media for the campaign. It will monitor factors such as the probability of rain and predictions for temperature and UV levels, to decide when to place ads across TV, press and digital during May and June.

Up to 60% of the campaign will be weather-dependent, with other ads placed based on commercial factors.

M2M will give less than 48 hours' notice to media owners, to target consumers when the weather is best. The digital and social media campaign will also use geographic targeting to communicate the campaign in parts of the country where the sun is shining.

The "feelgood" TV ad will air around family programming on ITV, Channel 4, Channel 5 and on digital channels, with a 40-second edit screened based on weather data, while a 10-second edit will be shown in pre-planned slots.

Creative agency Now has designed the ads, which include a TV spot showing a couple preparing salad on a sunny day with the tagline, "Bags of feelgood".
The copywriter for the TV ads was John Townshend and the art director was Steve Paskin. The director was Simon Willows, through BlinkInk.

Elaine Smith, the marketing manager for Florette said: "Driving frequency of purchase is especially significant this summer because we don't have the same packed schedule of 'feelgood' sporting celebrations [as in 2012].

"Our campaign is carefully designed and timed to motivate salad selectors – who we know from our research are driven by the summer weather, social events and family gatherings – by ensuring that when the sun is shining, Florette salad will be front of mind."