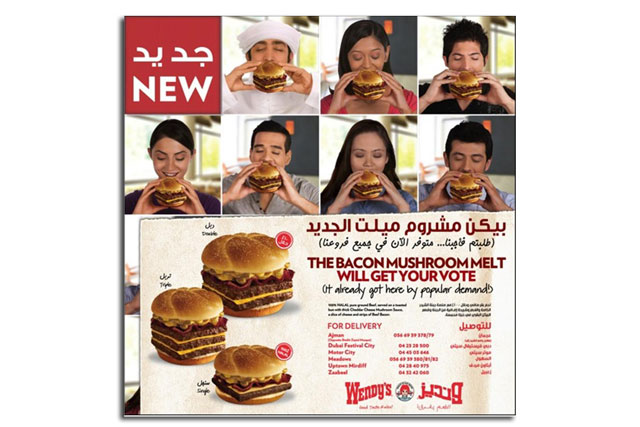 Focusadvertising won in a three-way pitch against 3Points and JWT, with Focusadvertising winning the below-the-line and JWT the above-the-line business.

The agency will drive brand appeal across the sector, using email, social media, posters, press ads, outdoor marketing material, and in-store display material including menus, digital boards, tray mat and cash register imagery.

Two new products will also be launched - Wendy's bacon mushroom melt burger - using beef bacon - and better Domino's pizza ingredients.

Wendy's recently opened six outlets in the United Arab Emirates, and media spend will be focused here before further expansion in the region.
Bahij Haloumi, managing director at Focusadvertising Dubai, said: "We're particularly delighted with this win as we have been eager to add an international name to our portfolio of clients, and in particular in the fast food category.
"We knew we could bring a new approach by elevating the creativity and refreshing the look and feel of the brands. It was a tough challenge especially because they've asked both shortlisted agencies to work on few projects for one month as a trial basis in order for them to evaluate clients servicing, time management and creativity in handling the various markets," he said.
Domino's launched a Reggae Reggae Sauce pizza earlier this month.