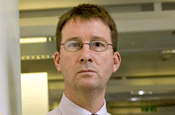 The wife of the millionaire novelist succeeds Margaret Hodge as Minister for Culture, Creative Industries & Tourism in the Department of Culture, Media and Sport. Hodge, who enjoyed a close working relationship with the ad industry, is taking compassionate leave from the Government until next spring because her husband is seriously ill.

Stephen Carter, who has stood down as Brown's head of strategy in Downing Street, becomes Minister for Communications, Technology and Broadcasting with a seat in the House of Lords.

The former head of Ofcom and Brunswick executive will divide his time between the DCMS and the Department for Business, Enterprise and Regulatory Reform, now headed by Peter Mandelson, which oversees regulation of the ad industry.

Tom Watson, a minister at the Cabinet Office, is expected to retain his brief as the minister responsible for COI. He will also work closely with Liam Byrne, the new political head of the Cabinet Office, on the Government's overall strategy and communications.

Baroness Peta Buscombe, the chief executive of the Advertising Association, said: "It's good that such a well-known figure has been appointed to the key role of Minister for the Creative Industries. I look forward to meeting and working with Barbara and am sure she will recognise the vital, worthy and enlightening contribution that the creative industries make to the UK economy and public life."