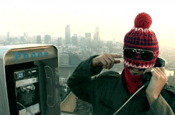 The flash application, by digital engagement agency Kerb, allows users to upload their picture, which is then used in one of three scenarios.

The final clip can be saved and emailed to friends.

Jody Smith, editor of E4.com, said: "We wanted to create something fun and viral for the new series of Fonejacker that users can take away from E4.com and place on their social network profiles."

The new season of Fonejacker airs at 10pm on Wednesday on E4, and the widget will be available for a six-month period through the E4.com website.