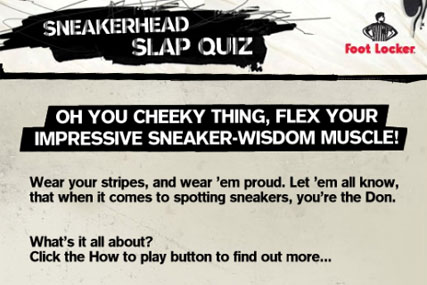 The game application on Facebook, created by SapientNitro, follows the Foot Locker ad "Sneaker Mastermind" in May.
Designed to test fans' knowledge and enthusiasm for trainers, the Sneakerhead Slap quiz, features a series of people's behinds marked with a red spank mark. Each mark is made with a different trainer and fans are awarded points for each print they can match with the right trainer.
Results are then posted on the fan's wall, with a suitable review and grading of their performance.
SapientNitro Europe chief creative officer Malcolm Poynton said: "Within days of Footlocker releasing this summer's Sneaker Mastermind film fans were commenting and blogging about their ability to identify sneakers in the same fashion.
"Now Foot Locker is giving them the chance to do just that with the 'Sneakerhead Slap Quiz'. Complete with results published direct to fans' Facebook pages, fans are challenged to put more than just their reputation on the line."