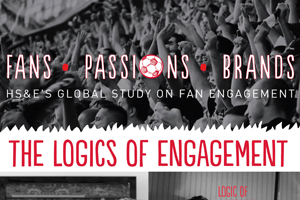 The global research entitled 'FANS.PASSIONS.BRANDS.' has been developed by Havas Sports & Entertainment (HS&E), the brand engagement network of the Havas Group, in partnership with the University of Southern California's Annenberg Innovation Lab.
It was conducted in May in 15 countries including France, Spain, UK, Germany, Italy, Portugal, Poland, Russia, the US, Mexico, Brazil, Colombia, Chile, Argentina and China. An online questionnaire was sent out to 21,000 people aged from 13 years old and up to those aged 65 years old and older, and was carried out by internet-based market research firm YouGov.
In light of the Fifa World Cup football tournament, currently taking place in Brazil, the global study highlights how fans, who identified football as their top passion, engage with the sport because of a desire to create or deepen relationships with other fans (social connection), as well as a reflection of their actions or results in attitude and outward appearance (pride).
While social connection and pride were cited as the top two logics among football fans when engaging with the sport, the least used logic among them was entertainment – an enjoyment of the overall experience and atmosphere.
As part of the study, HS&E and Annenberg Innovation Lab identified eight logics of engagement that can be applied to sport fans including social connection, pride and entertainment.
Others include immersion (the will to lose oneself in the emotion of the game), play (virtual or real-life participation in activities related to one's passion), identification (self-association with the team, players and their emotions), mastery (interest in learning and understanding the details behind strategies and stories), and advocacy (championing on behalf of one's passion).
The study found fans who declared themselves to be very passionate about sport engage most readily through identification, mastery, pride, social connection and play, twice as much as they engage through the logic of entertainment, the core logic for casual and mature fans.
These five logics are also the most cited by passionate football fans, with percentages of engagement almost double those of sport fans.
Football fans who engage in these five logics also display increased brand awareness, more positive attitudes towards brand recommendation and purchase intent for brands who are involved in football sponsorship.
Erin Reilly, creative director and research fellow at USC Annenberg Innovation Lab, said: "In our refined framework, fans are seen to engage in multiple logics at the same time, in varying degrees. For example, we often see fans using one or two logics heavily, such as pride and social connection, especially when they are in public situations like a stadium or a bar.
"Other fans use different logics, such as identification or entertainment, when watching alone at home."
Lucien Boyer, global chief executive and president of HS&E, added: "During the World Cup we will be on the ground in Brazil to connect with fans directly, observing and interviewing them, as well as tracking Twitter conversations globally during matches as online conversations are firmly linked to how we experience the event.
"The additional smart data and qualitative learnings that we will gather, together with a deeper analysis of the global survey will, we believe, result in interesting new insights that will be available for all our clients and partners this autumn."
As part of the World Cup HS&E is working with three of the six Fifa partners (The Coca-Cola Company, Hyundai-Kia and Adidas), Fifa World Cup commercial affiliate Louis Vuitton, as well as over five national team partners in ten countries.
Comment below to let us know what you think.
Keep up to date with our latest sport news on our dedicated Sport channel, and on social media via the hashtag #EventSportnews.
For more in-depth and print-only features, showcases and interviews with world-leading brands, don't miss the next issue of Event magazine by subscribing here.
Follow @samedwardsevent