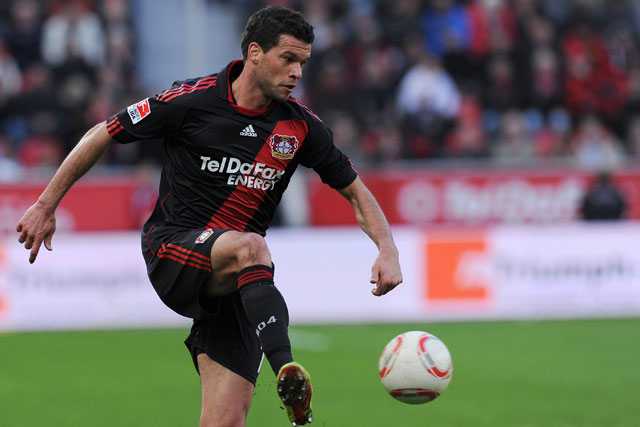 In some quarters, it is acknowledged that the true test of a football club's greatness is whether it has managed, in all its long history, to make it to only one single Champions League final - which it has promptly gone on to lose.
As such, Bayer Leverkusen is in the same awesome super league as Arsenal, Monaco and Chelsea. And yet Leverkusen is, in one respect, unique: it is struggling to secure a shirt sponsorship deal for next season.
Last week, it took the unusual step of placing an ad in the Financial Times, inviting suitable candidates to make themselves known.
"Come and play the Champions League with us," the copy teased - a reminder that the club has qualified once more to play in Europe's elite tournament (though a second appearance in the final next season might seem improbable).
Enterprising, perhaps. But this, surely, is the commercial equivalent of the proverbial admission that your top striker can't hit a cow's backside with a banjo. How hard can it be to get a decent shirt sponsor these days?
Even the worst side in English league football last season, Stockport County, which came bottom of League Two, thus suffering the ignominy of relegation to the Blue Square Premier league, has a shirt sponsor.
In fact, the mighty Stockport has - or had - no fewer than four kit sponsors: shirt front (Stockport Metropolitan Borough Council), shirt back (EasiDrive, the accident management company), shorts (Stockport College) and training kit (RESB).
And Leverkusen's apparent difficulties are all the more perplexing when you recall that the club was formerly the works team of one of the most powerful pharmaceutical companies in the world, Bayer AG: the company famed for synthesising acetylsalicylic acid, which it markets under the trade name of Aspirin, and diacetylmorphine, for which it coined the celebrated branding of heroin.
So, on second thoughts, perhaps Bayer is not an idea sponsorship partner in an era when football players at the highest level are subject to so many random drug tests. In any case, the company's logo is already incorporated into the club's logo. Featuring it twice would just confuse everybody.
1A report from the German research company Sport + Markt, published in October 2010, noted that the overall shirt sponsorship market remained buoyant in Europe and that the English Premier League was now the top league, attracting a total of EUR128 million per season, up EUR44.5 million year on year. This surge knocked the German Bundesliga into second place in the European standings, in shirt sponsorship terms.
2But the report was soon out of date. In November 2010, Bayern Munich signed a deal with Deutsche Telekom worth £23.6 million a season; and Barcelona kept Spain in the game by agreeing a long-term deal with Qatar Foundation. Its only serious rival, Real Madrid, gets £16.8 million a year from bwin.
3The biggest shirt deal in British football is Liverpool's £20 million-a-season agreement with Standard Chartered. Manchester United has a similarly priced tie-up with Aon.
4But this is a distorted and (arguably) irrational market, with a handful of teams in most national leagues taking more than three-quarters of the revenue. The least valuable shirt sponsorship in the Premier League last season (Wonga's, with Blackpool) was worth £500,000. Manchester United has a higher profile - but nowhere near 40 times the profile. Or, indeed, 40 times the glamour. And, arguably, Manchester United's unique distinction is that it is an institution loathed by many football people who aren't Manchester United supporters - so there are actually strong negative associations to be factored in.
5Shirt deals are only one facet of football's sponsorship cash-generating machine. Most big clubs also have a kit sponsorship deal and many, such as Arsenal, have sold their stadium naming rights. And then, of course, there are tournament sponsorships, which dovetail with broadcast rights deals. The Champions League, for instance, has four tournament sponsors: Ford, Heineken, Master Card and Sony Europe. Just last week, Budweiser signed an £8 million-a-year deal to sponsor the FA Cup, which will now be known as the FA Cup with Budweiser.
WHAT IT MEANS FOR ...
SOCCER FRANCHISES
- Few agencies operating in the sponsorship business believe that Leverkusen's innovative move is indicative of any softening of the market - either in football or, more generally, in sport.
- In recent years, sports personalities have proved to be a risky gamble. For every paragon of virtue like Roger Federer, there's a Tiger Woods.
- And advertisers should think twice before associating themselves with unwholesome footballing characters like Ryan Giggs or Wayne Rooney or John Terry. They are, after all, only human.
- But putting your company name on a shirt detaches you from such mundane troubles. Where the top clubs are concerned, the shirt colours have a powerful resonance - and you're guaranteed a high media profile.
- So David Peters, the head of sponsorship at Carat, thinks that Leverkusen is right to explore all avenues in maximising this opportunity. "Leverkusen is in the Bundesliga and the Champions League, so it's a club operating at the highest level of professional football - but this business is not always as straightforward as you'd think," he points out. "You're competing against national and international competition - the Real Madrids of this world. And if you're a club with a pan-regional profile, as Leverkusen is, you'll feel that you should be targeting international brands. It's a tough market - but football is still in a great place commercially."
BUSINESS MEDIA
- Does business-to-business advertising actually work? If Leverkusen succeeds in attracting a plum sponsorship partner on the basis of an FT ad, it will make a wonderful case study.