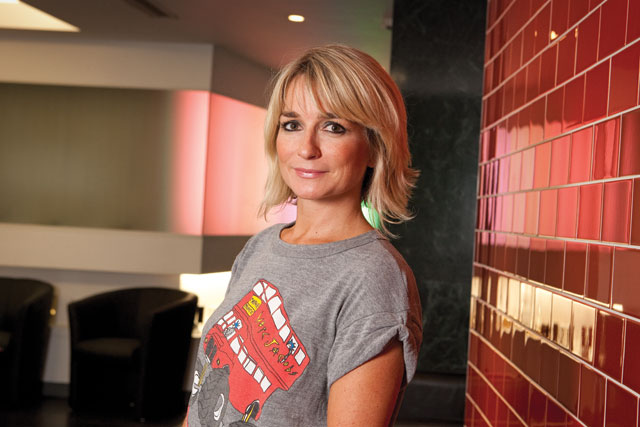 Last month, Lucie Cave was officially announced as the editor of the Bauer-owned celebrity title Heat, having spent the past ten months as acting editor after Sam Delaney suddenly quit the post in December.
Combining appearances on Daybreak, a slot on Heat Radio and a past career as a presenter on Trouble TV, Cave has become one of the best-known faces in magazine publishing in the UK.
It's a surprise, therefore, upon meeting her to discover that she is potentially also one of the tiniest people in British magazines. But as well as being small, Cave is cheeky, upfront, energetic and just a little celebrity-obsessed.
"She's a force of nature," her publisher, Sophie Wybrew-Bond, says. "I think, from my perspective, the bottom line is that Lucie completely understands the fibre of the magazine. She is pitch-perfect. Her real strength is she really unites the team and injects a real positive energy into the team. She has a strong vision and we need that."
So by appointing an editor who embodies Heat's qualities, it seems Bauer is backing Cave as the one to bring the £1.65 weekly title back from its recent and dramatic Audit Bureau of Circulations slump.
In the latest round of ABC figures, Heat's weekly average circulation for January-June was down 21.7 per cent year on year to 326,993.
When you compare this with Heat's highest ABC figure of 598,623 in 2006, it seems clear that something is going wrong.
Launched in 1999, Heat really gained popularity on the back of shows such as Big Brother, which gave birth to a new breed of celebrities. But Cave says Heat's recent ABC drop, rather than reflecting a dip in consumers' interest in celebrity culture, is the result of an increasingly competitive newsstand.
When she joined Heat eight years ago as a freelancer, the magazine was one of the biggest celebrity-branded titles on the newsstand. But now, after almost a decade with the title, and having been its deputy news editor and features editor, Cave is all too aware that hers has become one of the most fiercely competitive magazine markets.
"People are still obsessed with celebrity," Cave says. "But there's no denying that the celebrity market is probably the most challenging market on the newsstand.
"Now you've got ten titles all competing against each other, with increasing amounts of marketing activity. Some of them are multi-packing virtually every week, people are doing price promotions, some people are cutting their prices permanently - so often the consumer doesn't know where to turn really and sometimes will just go for the cheaper product.
"We're more expensive than most of the others, but that's our mark away from the cheapness of them and it's about us being a premium product - something that we're really proud of.
"We're not cheap and we don't make things up like some of the other magazines."
And Wybrew-Bond, who also publishes Closer, predicts that Cave's behind-the-scenes work to stabilise the brand will have a big impact on the next round of ABCs.
Together, Cave and Wybrew-Bond have been working on a series of changes for Heat, but the pair are determined to remain tight-lipped about exactly what is in store for the title.
"It's been a bit of a journey for both of us," Cave explains. "We've really concentrated this year on improving the content of Heat, the tone, getting it to a level that we are proud of and developing my vision for the brand.
"We've been working behind the scenes on getting it to a place where Heat readers are really engaged on all levels. It's not even just about the magazine any more; it's about the power of the whole brand, and that's one of the things that excites me the most."
While the brand extension argument has become a popular comeback for struggling magazines in recent times, when it comes to Heat, it seems the industry is agreed.
Amy King, the head of press at MPG Media Contacts, was present when Heat recently presented its brand to the agency. And Heat bosses impressed King by arguing the strength of its overall brand, which includes Heatworld.com and Heat Radio.
King says: "If you went out to people on the street, everyone has heard of Heat. The brand is so strong that they now need to develop that and make it not just about the magazine.
"When they are selling that many issues each week, it's still a very high circulation, and people forget that. Lucie has worked at Heat for a long time, so she's very experienced. It's now about Heat finding itself."
Cave brands the magazine Heat's "mothership", but also claims Heat Radio has a 670,000 weekly reach and 189,000 followers on Twitter.
"Heat for the future is about harnessing that brand reach - we now reach 2.7 million people a week through the magazine, which is obviously the mothership at the centre of it all and always will be; then you've got the other brands that work in symphony with it," she says.
Cave, who as Heat's unofficial ambassador has become synonymous with the brand, has a big challenge ahead of her to bring the magazine back from its circulation slump. But with her energy, experience and vision, she could just be the perfect woman for the job.
THE LOWDOWN
Age: 34 (showbiz age); 37 (real age)
Lives: Clapham
Last book read: James Corden's May I Have Your Attention Please
Interests: Running, celebrity
Motto: "Forget about all the reasons why you can't do something, all you
need is one good reason why you can"