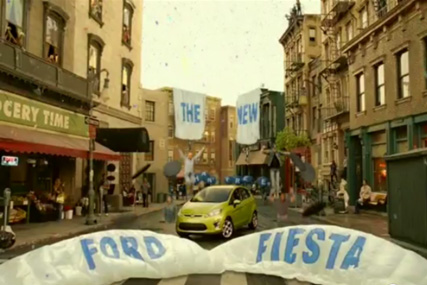 An Americanised version of the Fiesta was sold briefly in the US between 1978 and 1980, following its launch in 1976, but the car has not been available in US dealerships since.
The campaign, created by WPP's Team Detroit, gives Fiesta, previously only a Ford of Europe vehicle, significant advertising support in North America.
The ads carry the line 'Introducing the new Fiesta', and focus on the technological benefits of the forthcoming vehicle, such as its push-button ignition and electronic central locking system. The campaign, which launched yesterday (Tuesday 18 May) during an episode of 'American idol', also uses the strapline 'Pretty big deal'.
Ford, which is better known in the US for its larger 4x4 and pick-up truck vehicles, has been preparing for the introduction of the model with a social media campaign entitled 'FiestaMovement'.
A further, humorous ad compares the convenience of Fiesta with the Honda Fit and Toyota Yaris, with drivers of the three cars chased by a zombie.
A global campaign for the Fiesta, created by WPP's new agency dedicated to Ford, Blue Hive, will launch later in the year.