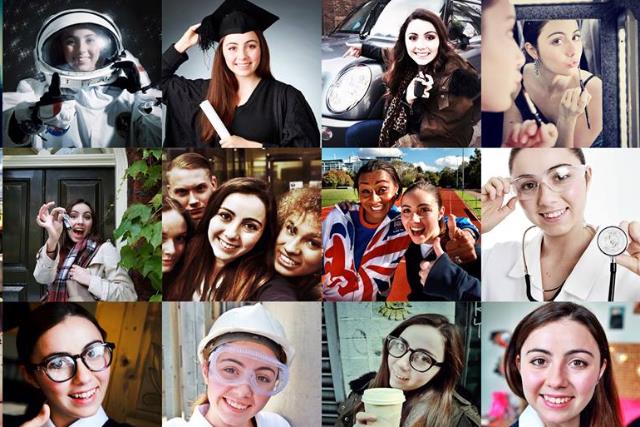 Ford, Johnson & Johnson, BAE Systems, Shell and Visa are among the top-tier companies taking part in the campaign, set up by dunnhumby co-founder Edwina Dunn.
The drive will attempt to tackle "tired stereotypes" associated with Stem (science, technology, engineering and mathematics) subjects, such as the supposed superiority of men in the field.
The goal is to boost take-up of science and maths A levels by 50% within the next three years.
Your Life is working with its partners to create opportunities for under-represented groups, encourage more inclusive workplaces, introduce flexible working and provide advice to young people on progressing to the top.
We must make sure that teenage girls don't feel and are not told that certain subjects are the preserve of men
Launching Your Life in London, Education Secretary Nicky Morgan said: "To succeed in the global economy, the British workforce of tomorrow has to have the skills and knowledge to compete.
"We must eliminate the gender pay gap. We must make sure that teenage girls don't feel and are not told that certain subjects are the preserve of men."
Charm offensive
Much of the campaign focuses on making Stem subjects appealing to young women. Although women represent 47% of the British workforce, just 16% progress into Stem careers (not including medicine), according to Government figures from last summer.
Sally Martin, vice president of health and safety at Shell, said: "My take is that we need a bit of a charm offensive, we need to do a lot more work at the front end of the talent pipeline to help explain [these subjects] to students at school.
"We need to celebrate what we do. Where are the Oscars of the engineering work?"
The campaign comes two months after major changes to the UK curriculum, which sees children as young as five years old being taught how to code.
Your Life is backed, though not funded, by Government, which may be critical to its success. A spokesman told Marketing that the campaign will run for three years and will be funded by its corporate partners.
Jane Griffiths, group chairman EMEA at Johnson & Johnson-owned Janssen, said: "One of the important things is that Your Life is business-led, and this is critical. It is critical to ensure stability over and above electoral cycles."
Read next