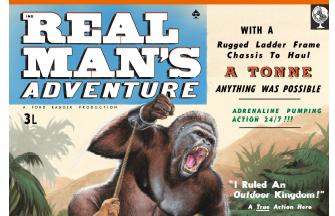 The print ads, by Ogilvy Advertising, are in the style of comic book front covers and depict a fictional magazine called Real Man's Adventures.
One execution shows the Ford Ranger dragging along a King Kong-style beast, with the lines: 'Rugged ladder frame chassis to haul a tonne; anything was possible; adrenaline pumping action 24/7!!!'
Another ad depicts an Indiana Jones-style escape from an exploding temple, and says, 'It was close but with limited slip diff I had the edge; step inside a rock-hard world; guts and courage!'
The work, by artist Mark Thomas, marks a departure for Ford of Europe, which has not previously launched an ad campaign featuring only an illustrated version of the model.
The campaign breaks in the UK in December and will run in automotive press and lifestyle magazines.