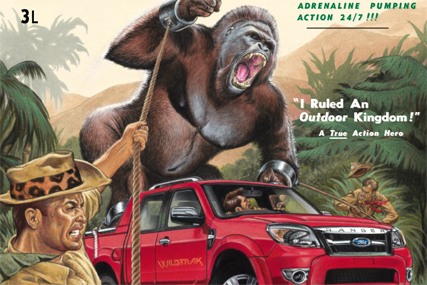 The press ads, created by Ogilvy Advertising, imitate the front cover of a comic book and place the Ford Ranger in high-octane situations.
In one spot, the pick-up is seen in a jungle being chased by a giant gorilla, while in another the vehicle is shown tackling tricky terrain in Egypt.
The digital campaign, created by Wunderman, includes banner ads that follow on from the print creative.
The ads link through to a specially created Ford Ranger website that promotes the vehicle as something "every man should own".
The campaign marks the first time a Ford vehicle has been shown as an illustration in its advertising.
The spots will run in a number of European markets, including the UK, Ireland, Portugal and Germany. Mindshare will handle media planning and buying for the campaign.