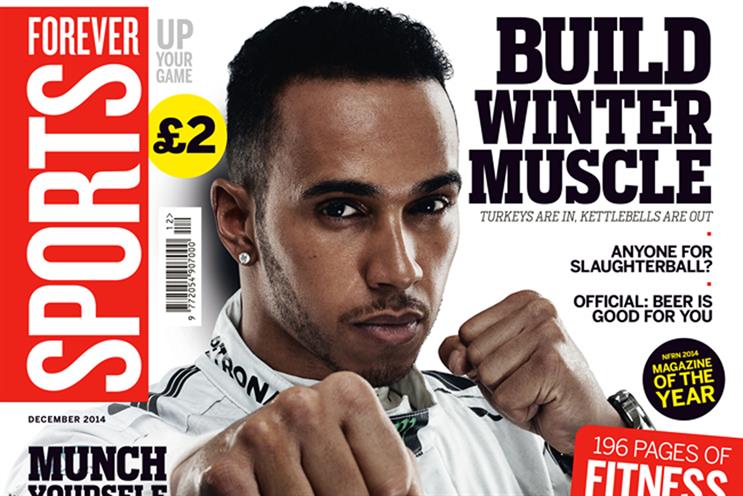 The 2014 British Society of Magazine Editors Awards were held at The Brewery in London, and represent the only UK awards run by magazine editors for magazine editors.
The winners were selected by a panel of 16 judges chaired by the 2014 BSME chair Guy Woodward.
Forever Sports launched nine months ago with an initial circulation of 62,277 after four months, making it the fourth most actively purchased men's magazine title.
The magazine costs £2 and offers 196 pages of sports, fitness and lifestyle content for men. The publisher harbours hopes of posting an ABC in excess of 100,000 in 2015.
Launch editor, Nikki Wicks, said: "It's a brilliant win for the team and a great result for men's magazines. It's not every day you get to work on a new launch and the response has been awesome.
"When we launched Forever Sports in May I said that it was going to be bigger than Pharrell's hat. And it's turned out to be bigger than Kim Kardashian's you-know-what."
Also on the night, editor of the year was awarded to Jane Bruton at Grazia while Toby Wiseman won men's brand of the year for Men's Health.
Guy Woodward, BSME chair and associate editor of Harrods Publishing, said: "I never cease to be amazed by the creativity and ingenuity displayed by magazine editors in this country.
"What shone through this year was the hunger to embrace and exploit a hugely varied array of additional publishing formats and revenue streams – from apps to events.
"The best magazine brands are now like clubs – they're with their readers in every aspect of their lives – on mobile, in print, online and in person.
"Magazine and digital brands continue to evolve in line both with technology and the habits of their readers.
"It makes for a wonderful cocktail of offerings – as evidenced by the winners of the two biggest awards of the night.
"The Editors' Editor, voted for by BSME members, went to Luke Lewis, editor of the widely disseminated BuzzFeed, while the Mark Boxer award for outstanding editorial contribution to the industry went to Richard Ingrams, founder of the determinedly print-centric Private Eye and the Oldie – who has probably never heard of BuzzFeed."
Media Week is published by Haymarket Media.
The winners of BSME 2014
Editors of the Year
Business Brand, monthly or less frequent
Robert Jeffery, People Management
Runner-Up: Matthew Gwyther, Management Today

Business Brand, weekly/fortnightly/more frequent
Rebecca Evans, Construction News

Branded Content, business
Stuart Knott, Market (Lloyds of London)

Branded Content, consumer
William Sitwell, Waitrose Kitchen

Entertainment Brand
Ben Preston, Radio Times
Runner-Up: Jeremy Mark, Heat

Lifestyle Brand
Susy Smith, Country Living
Runner-Up: David Rowan, Wired

Special Interest Brand
Pete Muir, Cyclist

Men's Brand
Toby Wiseman, Men's Health

Women's Brand, monthly or less frequent
Louise Court, Cosmopolitan
Runner-Up: Kate Reardon, Tatler

Women's Brand, weekly/fortnightly/more frequent
Jane Bruton, Grazia
Runner-Up: Lisa Smosarski, Stylist

Youth & Children's Brand
Steph Cooper, CBeebies Art

Newspaper or Current Affairs Brand
Nicola Jeal, The Times Magazine
Runner-Up: Sue Peart, You Magazine

Digital Editors of the Year
Digital Editor, business
Jon Yeomans, thegrocer.co.uk

Digital Editor, consumer
Hannah Williams, bbcgoodfood.com
The Fiona MacPherson New Editor of the Year
Greg Cochrane, nme.com

Art Directors of the Year
Art Director, business
Sam Walker, Market (Lloyds of London)

Art Director, consumer
Giles Arbery, Stylist
Runner-Up: Richard Murray, Completely London (KFH)

Art Director, digital
Paul Solomons, GQ App

Launch of the Year
Nikki Wicks, Forever Sports

Columnists of the Year

Columnist of the Year, business
Justin Pollard, E&T

Columnist of the Year, consumer
Caitlin Moran, The Times Magazine

Scoop of the Year
Alex Matthews-King, Pulse
GP hit With contract notice over plan to opt all patients' out of care data

Innovation/Brand-Building Initiative of the Year
Mark Hedges, Country Life, HRH Prince of Wales as Guest Editor
Runner-Up: Alastair McLellan, Health Service Journal, Health Service Journal Intelligence

Campaign of the Year
Bea Appleby, Girl Talk, Girls Are Amazing

Editors' Editor of the Year
Luke Lewis, BuzzFeed UK

Mark Boxer Award
Richard Ingrams