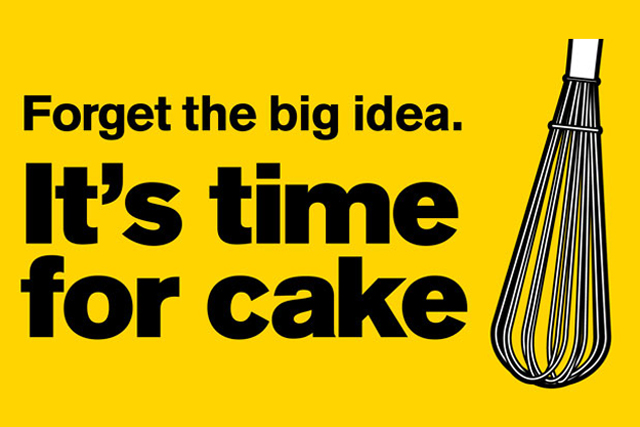 Many have spent the past few years lamenting the passing of "the big idea" - as if, in a world in which everything is digitised, it follows that everything must also be atomised. The big idea of course denoted fame, monopoly, unity and big TV.
The same people who dance on its grave pronounce the small idea as its successor. Small ideas denote app-appeal, multiplicity and, sadly, sometimes just small budgets. As we go into 2014, will we still be chasing the big idea, or can the future only now ever be about lots of little ideas?
It would help if we could untangle our ideas to produce a useful typology. To that end, a few months back, at the APG's Noisy Thinking event on "What is an idea?", I tried to do just that, and proffered the humble offering of an ideas cake.
In our industry there are three basic types of idea; so I baked three delicious layers. The top layer is the brand idea, which is very intangible (which one may think of as more an ideology than an idea: it represents a worldview that guides people to think or live a certain way and may spawn dedication in the form of followers or fans).
The supporting bottom layer is the product idea. This is fundamental and very tangible, and perhaps represents something more practical - more of an invention or innovation.
Then there is the connecting layer that sits in between. This is the communications idea (or, as we used to say before the dawn of the internet, the advertising idea). But what is the purpose of this layer, and is it big or small?
Connecting thought
I argued - with, I might add, James Webb Young on my side - that a communications idea is a connecting thought, and that, if the most fundamental definition of an idea is "a thought or suggestion as to a possible course of action", that an idea must then connect a state of "what is" with a state of "what could or ought to be". My idea of an idea is that it links an "is" with an "ought" and is, therefore, "a passport to ought".
What an idea comes down to is "a suggestion to a possible course of action" and, for that matter, a preferable one. A communications idea must promise not just difference, but betterness. For example, Kit Kat suggests that making time for a proper break makes your day better; Sainsbury's suggests that affordable food can still be better-tasting and better-quality; and Coke simply that sharing is better whatever.
All these brands have philosophies and communicate their purpose; hence, they are displaying some of the best communication work today. Brands with communication ideas that aren't cutting through are the ones that are merely promoting a difference, which don't help us imagine anything better.
We haven't shifted from the big idea to the small idea, but from the big idea to the "boundless idea" - one that can project or promise progress will stretch beyond the bounds of what we currently know or have become accustomed to.
A "passport to ought" can take you anywhere away from here, in any direction you fancy; you don't need to stay exactly where you are. Once we stop thinking of an idea as a "thing" and more as a "link", we will recognise this.
Boundless idea
The future is about the boundless idea - and the boundless idea will create a boundless brand. We will see many brands moving way beyond the category in which they were born. We can see some of this happening already. In which category would you place Apple? Computing, mobile, technology, entertainment? In which category would you place Google? Or Virgin?
Wait and see what happens when technology moves into wearables: will many of the brands we thought of as technology brands actually transform into fashion brands and vice versa? The most successful brands will be boundless and their communications ideas will be, too.
In turn, this means that ever-more brands will be expending less effort on articulating their position, and more on crafting communications ideas that articulate a purpose.
For agencies
There are no limits to ideas. One cannot say the same of execution. So the challenge for agencies is to move from a deliverables-first mentality to an ideas-first one. That means evolving the disciplines, culture and skills within the agency. Boundless ideas require boundless teams. At the moment, most of the industry is still stuck in the creative-planning-account-handling triumvirate structure. This simply cannot be the best solution for the future as outlined above. What about a shake-up to the make-up of the team?
Rather than choosing to work within the confines of disciplines, let's identify some of the essential roles required in originating an idea that is boundless. It has been shown by anthropologists and psychologists that teams of four are the most effective, so let's start with four roles: the envisioner, user, investor and maker.
The envisioner would be the brand planner, trend-watcher, or even researcher. Their role is to pull together insight into customer behaviour and foresight about future needs. They set the objectives and articulate the outcomes, and are responsible for nailing the link between the consumer-is and the brand-ought.
The user may be a UX planner, an audience aficionado, a shopper expert or, indeed, anyone who represents the user's journey and can map a better experience.
The investor's role is not merely to charge for the production and delivery of the execution, but to identify and assess where deals can be done in the exploitation of the idea; perhaps to partner other brands or third parties to achieve a more effective (rather than efficient) financial solution. Perhaps they will show the others how to merchandise the idea in order to capture income, meaning that ideas go beyond the bounds of just being a cost. The account-handler, chief financial officer or venture capitalist could take on this role. Imagine making the shift from procurement of, to investment in, ideas.
Lastly, of course, there is the maker role.
Traditionally this has been an art director and copywriter pairing. But in the era of the maker, the role is not automatically fulfilled by a traditional creative team. The outcome could point to a designer or a digital team instead.
The point about this is that one builds a team to originate an idea, not deliver an execution.
For brands
The boundless idea, acting as a passport to "ought", tempting one with betterness, not merely difference, and emanating from a brand's purpose, is a pretty exciting idea in itself. And maybe with the first glimpses of recovery on the horizon, consumers will be receptive to more progressive communications.
For so many years, consumers have been either struggling or coping with austerity. There has been no appetite to hear of how brands can help make things better for people. The JWT Austerity Index for three straight quarters has reported consumers stating that there is no brand genuinely attempting to help them with austerity.
If consumers are open to hearing that recovery is on the way, perhaps they will now be in the mindset to hear about something better from brands, given that better may now be a possibility.
One thing is for sure, though: people are no longer going to be satisfied to hear a communications message aimed at them as consumers that says one thing about the brand, while with government or within the community the brand adopts a different position or tells a story that is incongruous with the one it has presented to consumers.
This is the strength of the boundless idea. It forces brands to think of their communications ideas in the wider context. We have seen the backlash against Starbucks and Amazon over their tax affairs and outrage over the whole sorry Co-operative Bank debacle. They seemingly showed one face to their customers and another to the government and society.
In a connected economy, it will be impossible for brands to be two-faced. Moreover, to circle back to one of the earlier points argued for here, in some cases, categories will disappear from our consideration set altogether and we will demonstrate our preferences based on brand purpose as much as market positioning.
Several years of austerity have led to some pretty dull, one-dimensional price communications. To borrow from Churchill, this year is not the end of austerity, nor even the beginning of the end; but it may well be the beginning of the beginning of the end.
As we move slowly into recovery, and confidence grows, so will brands' aspirations for themselves, as well as their consumers. We will start to enter an era in which people can again dare to dream and brands will recover their purpose, and articulate it way beyond the bounds of their primary category. So in terms of ideas, 2014 is the year to get back to baking some deliciously irresistible cakes.