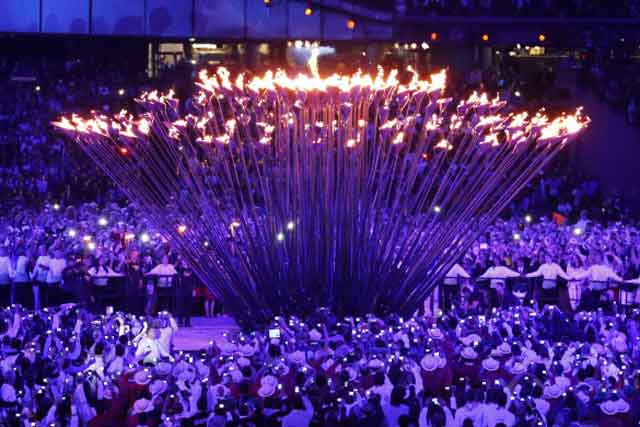 Wired12 was going to be very different from the Wired11 event. As soon as the editor and host, David Rowan, introduced the first day, describing the 50-strong speaker line-up as "the people who are not accepting the world as it is and are shaping the future", one could feel the expectations - as well as the optimism - of the audience rise. So many attendees were people trying to transform old businesses or start up new ones in a post-digital world. Maybe Wired12 would have all the answers? Well, it had one answer, the only answer required in order to succeed: disobey.
The message was clear throughout: as long as you believe in yourself and disregard the rules imposed on you, you will succeed. 2011 had been about the power of technology; 2012 was more about the power of the creative individual - those who make their own rules.
Getting fired up
First up was Thomas Heatherwick, the English designer responsible for the beautiful cauldron that set our passion for the London 2012 Olympics alight. He captivated us with the story of how he researched previous Olympic flames and noticed how they were all so small and insignificant, stuck at the front or back of massive stadia. However, on his visit to the Stratford Olympic Stadium, it became clear to him that the power of a circle is in the centre "where something very small can feel very significant". Among the advice given to him by the Olympic organisers was: "Whatever you do, make sure you have no moving parts." We now know what he thought of that as he designed 204 copper petals to be raised skyward forming the most awe-inspiring Olympic cauldron ever.
Seeing the illusion
Alexa Meade, a talented, self-taught painter, talked about how she knew she wanted to paint but also knew she did not want to paint on canvas. She started to paint the shadows on the grass in her garden and on the eggs of a fry-up as she thought: 'How can I turn an egg into a painting?" Her work now shows painted people submerged in milk, where the paint leaks off the model to mix into the milky background, where the viewer is not sure whether they are looking at a photograph of a woman in milk or a painting of a woman in milk. She challenged the audience to see the lines that define them as an illusion, and to be open to the changing shape of things around them.
Driven on
In Western society, when we disobey the rules, they are usually self-imposed rules and the reward for doing so is greater than the risk. Not so for Manal al-Sharif, who made a video of herself driving a car around Saudi Arabia with her face uncovered that has clocked up nearly 900,000 YouTube views to date. As a female in Saudi Arabia, driving a car is something she could get arrested for and, like most women there, she has more than 30 contacts in her phone just for drivers. She now runs a campaign called Women2Drive. But she added an important lesson, the lesson of 20/20/60: "Twenty per cent will support you from the start, 20 per cent will do anything they can to stop you and 60 per cent, the silent majority, will just watch the game. It is hard to convince the other 20 per cent, but that silent majority is waiting to see what happens, and it is your responsibility to try to get them to support your idea." And convince us she did, receiving a standing ovation.
Ripping up the template
David Karp, the founder of Tumblr, created it because he thought sharing a photo should be as easy as uploading a photo. So he expanded the code, disregarding the rules around blogs being made up of templates and formatted pages. Today, the result is 80 million blogs on Tumblr, none of which is formatted. Karp highlighted the "new economics of creativity" whereby people are not creating, publishing and distributing creative ideas in return for money so much as they are trying to leverage an audience to try to get a book deal, a gig, or be seen by a promoter. The old rules of the market were also being overturned by Lily Cole, and her "Impossible" journey into the gift economy where "saying thank-you is our only currency".
Data is power
The importance of data as the new currency was at its most compelling during an interview with Troy Carter, the Atom Factory founder and manager of Lady Gaga. According to Carter, "the future of social is the micro-network" and that is why he is developing Gaga a platform that is built around her Little Monsters fan data (at least 22 million Twitter followers and 50 million Facebook fans). Carter said that by holding that fan data, rather than giving it away to the likes of Facebook, they can tailor tour venue set lists to each audience's favourite songs, or even turn fan artwork into Gaga merchandise, because "fans like to buy work by other fans".
Hack attack
What about those for whom total disobedience is the only way to view life? Mikko Hypponen gave a shocking overview of what is actually happening in the cyberwar and specified the activities of the German government that allegedly uses the R2D2 Trojan to spy on its citizens, collecting personal data from their passports, turning on their webcams to take pictures of them and profiling their online behaviour. Few people seem to realise that government hacking like this is even happening. The next speaker, Keren Elazari, an Israeli security expert, then hacked the phones of the audience just to make the point.
Food recoded
Hackers, of course, disobey systems, finding weak points they can exploit to send a different message or create a different product from that which was originally intended. Pablos Holman of Intellectual Ventures Lab said of putting the hacking mentality to good use: "I've been thinking about the way people eat. Imagine (a system) printing you a meal customised for you, injecting your pharmaceuticals and correlating to your diet to create something good for you. It could introduce an optimisation that is missing from the system." At the other end of the food spectrum, the celebrated chef Ferran Adria presented his new system for cooking: Bullipedia. In a way, he captured the nature of disobedience and its collision with the power of the computer. He said: "Cooking is a language that interacts with other disciplines ... (and) the world of cuisine requires a new coding."
New rules for adland
And is that not the case for the advertising industry and agencies? Don't they require a new coding, one that encourages disobedience as a way to increasing creativity? A coding that allows us to override the client, consumer and category "rules" we routinely follow. Advertising, which has been one of the most powerful motivators of behaviour change, shifting social norms and influencing people into widespread action, was an all-too-apparent absentee from an event such as this. This year had much to teach us about the triumph of creativity over mediocrity, mundanity and adversity and that it is incumbent upon us as an industry to ensure we have something to bring to the party in the future or, rather, to the "future party". I, for one, have been inspired to be more disobedient more of the time. Anyone else up for creating their own rules?
Tracey Follows is the chief strategy officer at JWT London.