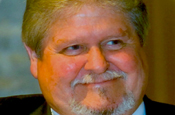 He passed away in Southampton General Hospital having been rushed there by air ambulance.
Bridge's advertising career spanned almost 40 years, during which time he won a series of D&AD and Creative Circle awards.

He built his reputation during the heyday of Collett Dickenson Pearce.

Working under John Salmon's creative directorship, he formed an award-winning partnership with the copywriter Danny Levin.

In the mid-70s, he joined Ted Bates as a creative group head before being appointed joint creative director.

After a spell as the Davidson Pearce creative chief, he switched to commercials directing, first with Abacus Productions and later at Covent Garden Films.

After a period at Duck Lane Productions, he formed his own production company, Brian Bridge Films.

During the last three yeas he had divided his time between Hampshire and France, where he recently staged an exhibition of his paintings.

His funeral will take place on Wednesday at 2.45pm at Basingstoke Crematorium, Stockbridge Road, North Waltham.

His family has asked that no flowers are sent and that donations should be made to the Southampton General Hospital Cardiac Appeal.