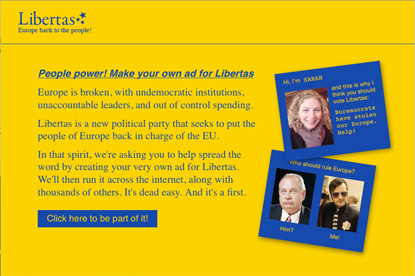 Called ThisAd, the start-up is the brainchild of the former Publicis creative team Ben Carey and Henrik Delehag, and launches with a campaign for the political party Libertas.

The campaign will run on MySpace and other social networking sites, and will allow any user to customise ads for the party using a variety of specially created templates.

Users will be encouraged to enter their messages in support of Libertas, or use the ads to vent their frustrations towards the other political parties.

The campaign is made possible using ThisAd's integrated customisations, moderation and ad-serving technology, and will run up until the European Parlimentary election on 4 June.

Ben Carey, the founder of ThisAd, said: "This is a new kind of advertising, allowing people to become creatives and feature in the ads for their favourite brands."