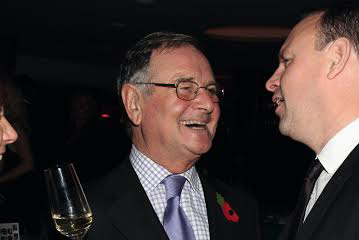 Stuart was a keen luncher but also a savvy negotiator and tough operator.
He knew how to handle GQ's editors, who included a series of swashbuckling characters, Michael VerMeulen, James Brown and Dylan Jones, and he relished fighting GQ's corner on behalf of its owner, Condé Nast, at a time of fierce competition from old rivals such as Esquire and new upstarts such as Loaded.
Stuart could be relied upon to fire off letters to the trade press and media agenices whenever a journalist or a rival dared to suggest GQ might be at risk of losing its position as number one in the upmarket, glossy men's market.
During one memorable spat over circulation with the then editor of Esquire in 2000, Stuart proclaimed with a trademark flourish: "People tend to believe editors and not question what they say. Editors are good with words. They should probably leave the figures alone."
On another occasion, when a marketing journalist speculated in print that GQ might move upmarket because of Loaded, Stuart wrote a fierce letter for publication, accusing the reporter of "guessing wrongly" in the news story and declaring: "GQ does not need to move upmarket. It is upmarket, with an ABC1 readership profile of 79 per cent, and that is where it will stay."
Stuart could claim vindication as GQ remains the top men's magazine to this day, with a circulation close to 120,000, far above Esquire, while Loaded has gone out of business.
He spent 21 years at Condé Nast, starting as an ad manager on Vogue in 1982 and retiring as publishing director of GQ in 2003.
Nicholas Coleridge, president of Condé Nast International, the owner of GQ, said: "Peter was one of the great characters of our industry: warm, funny, loyal, immensely popular. Everybody who worked in the media business in the 1980s and 1980s knew Peter Stuart.
"He was a major figure from the golden period of publishing, when lunches were longer and client relations paramount. He was greatly liked inside Vogue House, and applauded by the industry as a tough but fair negotiator."
Dylan Jones, whom Stuart helped to hire, said: "Peter was not only a brilliant publishing director, he was a lovely man who people genuinely liked doing business with.
"He was also funny. Very funny. In my first week at Condé Nast, I popped by his office to let him know that I'd organised a client meeting for 4.30pm the following Wednesday. He looked at me, deadpan, and said, 'Why would I want a meeting in the middle of lunch?' I will miss him enormously."
Stuart needed all his diplomatic skills to handle one of Jones's predecessors, James Brown, the founder of Loaded, whom Condé Nast recruited in a surprise move in 1997.
Brown's lad-mag shock tactics went down badly and the last straw was a feature that included the Nazis in a rollcall of the most stylish men in the 20th Century.
Stuart handled Brown's departure with characteristic candour, telling the media: "The magazine has suffered from a lapse of taste and errors of judgment." Yet it said much about Stuart's integrity that he remained on good terms with Brown afterwards.
His recommendation that Dylan Jones should take over proved a wise choice as he has gone on to be editor for 17 years.
Stuart leaves a wife, Penny, and two children, Clare and Mark.
A memorial service and celebration of Peter Stuart's life will be held at St Marylebone Parish Church, 17 Marylebone Road, NW1 5LT at 2pm on Friday 27 May.