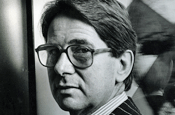 He had been ill for some time and suffered a fatal heart attack at his home in Petworth, Sussex, yesterday.
Arden spent 14 years as executive creative director at the Charlotte Street agency where he inspired memorable work for British Airways, Anchor Butter and InterCity.
His famous slogans included "The car in front is a Toyota" and "The Independent - It Is. Are You?"
In 1983 he introduced the famous Silk Cut concept in which no copyline was used, only a still-life photographic image in the brand's signature purple.
In 1993 he set up the film production company Arden Sutherland Dodd.
His first book, "It's Not How Good You Are, It's How Good You Want To Be", a quirky combination of wit and wisdom, sold more than half a million copies.
Bill Muirhead, the former Saatchi & Saatchi chairman and a founding partner of M&C Saatchi, said: "Paul was a giant in terms of his contribution to the agency. He work was always fresh, deceptively simple and strikingly graphic."
Do you remember Paul Arden, or did you work with him? What influence did his work have on the UK ad scene?
Leave your tributes below.
Arden pictured at his desk at Saatchi & Saatchi in 1988