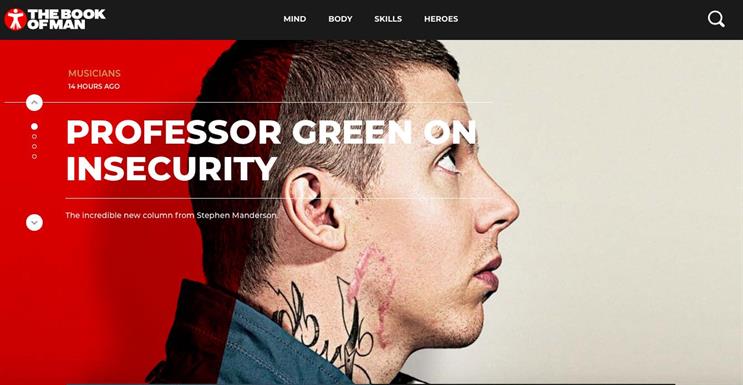 The platform, which launched this week, has been in development since Robinson, who is both chief executive and editor, left Shortlist in 2016 after five years.
The site's core content aims to provide advice for men of subjects of vital importance that haven't been covered by other men's media, including how to talk about your feelings, and how to treat women appropriately.
It's conceived as a "support network for modern men", Robinson says. "It's advice and inspiration but from a really progressive bent."
The launch partner is the Campaign Against Living Miserably, and a key topic for the platform will be mental health, and in particular the shocking prevalence of suicide – the biggest cause of death for men under 45 in the UK.
"There's a lot of anxiety out there," Robinson says. "Although those symptoms are discussed a lot no one's looking at those root causes and I think a lot's to do with society changing and roles changing."
A low point for men
The flipside of this is the urgent need for men to talk among themselves about how to put a stop the kind of behaviour that dominated the news agenda in the second half of last year.
"2017 was a real low point for men, certainly in the public eye," Robinson says – pointing to the allegations against Harvey Weinstein, Kevin Spacey and many other high-profile men. "Old-school masculinity reared its head and showed that it's still there."
He is keen to point out that the objective is not to "solve" masculinity, but to provide a space in which important conversations can be had.

Social media launch campaign "Provocations", created by Rick Dodds, former executive creative director at Droga5
Does he see the platform's objectives as feminist? "I would say it's feminist – but it's important to note that this is directly in support of men. It's coming at feminism from another angle."
Writers for The Book of Man include launch columnist and Calm patron Professor Green, who Robinson calls a "brilliant man".
"He's got a brilliant take on things. He's got a really interesting take on where masculinity comes from and where it falls down. He's not afraid to show his vulnerabilities, talk about his mental health problems.
The content will also include more conventional lifestyle content, which will range from gadgets and cocktails to DIY and entertainment, "Because we're advice, we're going to be doing a lot on everything a man would need," Robinson explains.
Brand opportunities
Robinson says he no plans to run display ads on The Book of Man, or to charge readers to access any of it, meaning its revenue will initially come from brand partnerships.
He believes the distinctiveness of the platform will be enticing for advertisers: "we're offering them a quality platform speaking to an audience that is relatively unrecognised thus far – men who are changing and interested in changing. They'll be repeat visitors and properly engaged in it."
Robinson points to brands like Lynx, which challenged conventional ideas of masculinity in the campaign "Find your magic", as natural partners. "I think we're a really compelling platform to deliver those messages," he says.
While Robinson says the cost involved meant launching a print title was never a realistic option, the digital platform "uses a lot of techniques and visuals you would normally expect from print", he says, in a bid to be less generic.
He also wants to escape some of the mindset he sees in much digital media: "In my experience it becomes solely about the traffic very quickly. It becomes very data-driven."
For advertisers, he says, "number are really not a thing that people are valuing so much. To a certain extent that's been found out. We're just trying to do something quality and really tight."
The Book of Man will also he hosting events "as regularly as we can", he says – which are likely to be "advice-driven events and talks by inspirational figures".