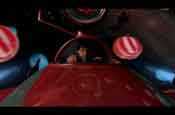 Lewis Hamilton, the 21-year-old Formula1 starlet who has signed up to drive for the Vodafone McLaren team this season, is the star of the latest Vodafone ad.
Created by Bartle Bogle Hegarty the 60-second execution has been created to bring together Vodafone's "Make the Most of Now" strategy and the company's sponsorship of the racing team.
The execution begins with the young driver, and a group of his friends, flying a variety of spaceships out of earth's atmosphere and into space as the voice over says: "When we're young we all have dreams of speed and excitement."
However, as the ad progresses more and more of his friends "grow up and become sensible" and give up on their dreams and one by one their spaceships crash or disappear.
However, the ad ends with Hamilton still pushing forward and achieving his dream as the child in the space rocker morphs into the driver in his Formula1 car.
Project name: Stars
Client: Kay Hoffman, Head of Advertising, Vodafone (Global Marketing)
Brief Highlight the relationship between Vodafone's philosophy 'Make the most of now' and the new Vodafone McLaren Mercedes Formula One racing team.
Creative agency: BBH
Copywriter: Glenn Gibbins
Art director: David Chalu
Planner: Sarah Watson
Media agency: OMD
Production company: Outsider
Director: Dom & Nic
Editor: Struan Clay
Post-production: Framestore CFC
Audio post-production: Wave
Exposure: National TV